EE
Baltic
March twig — gold chrysolite ring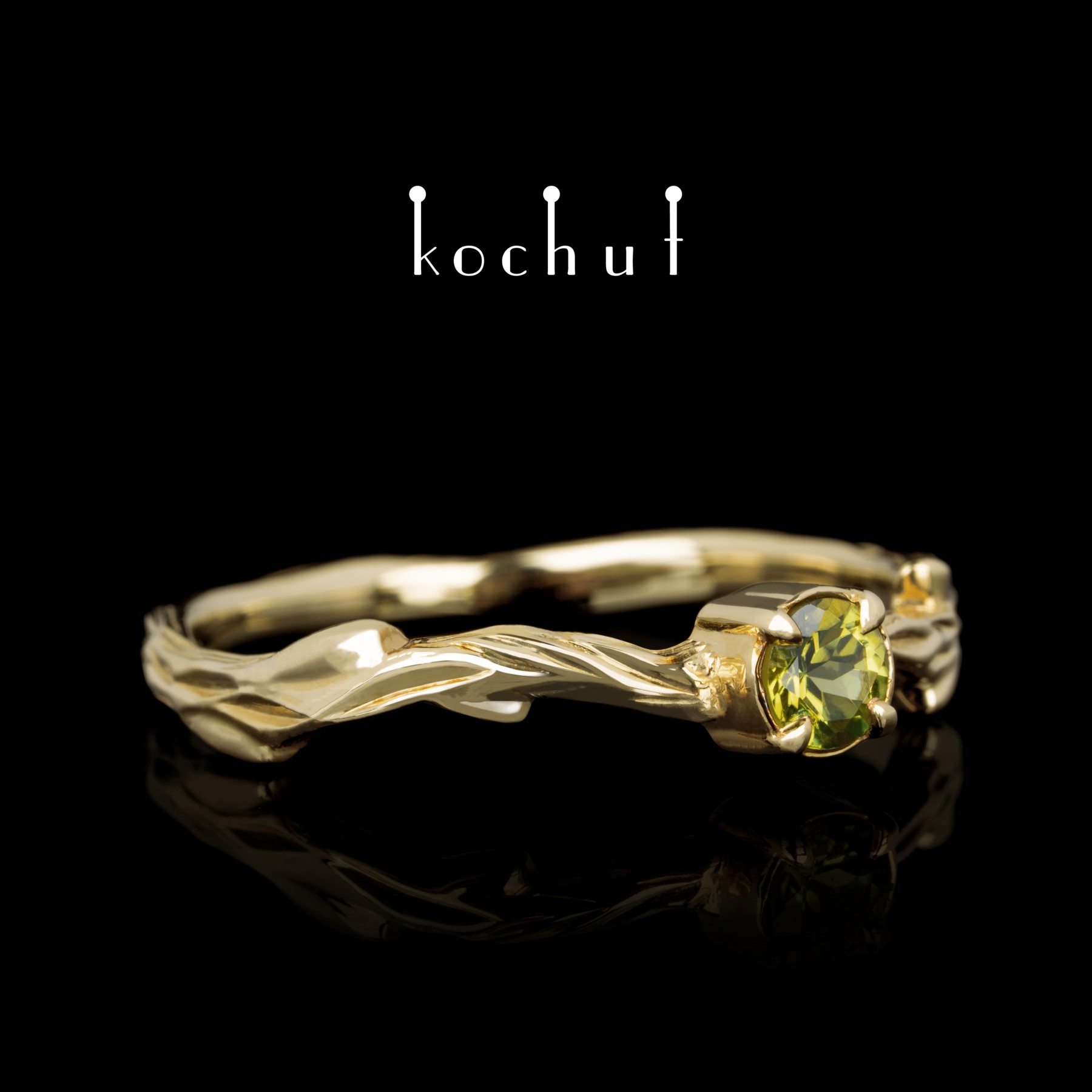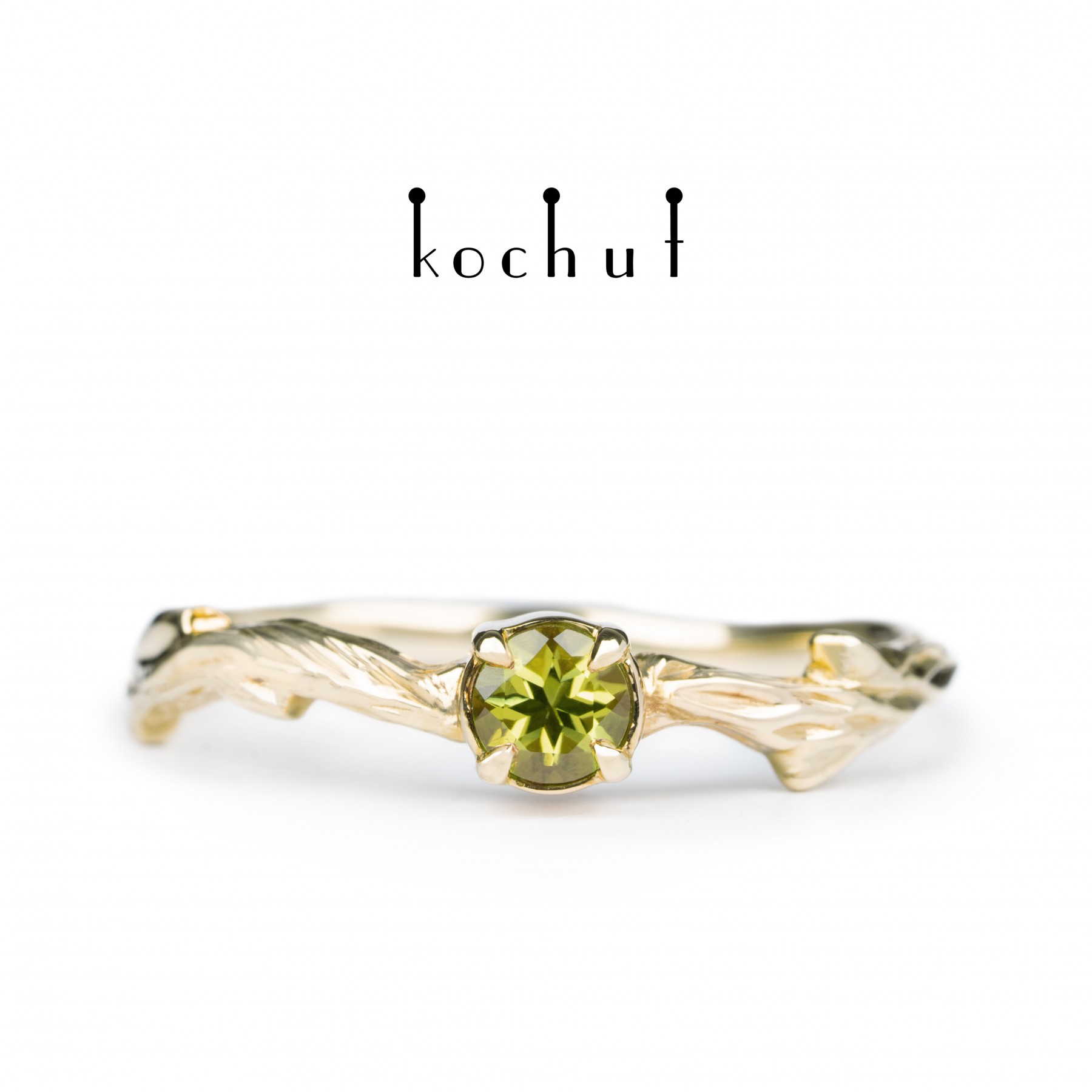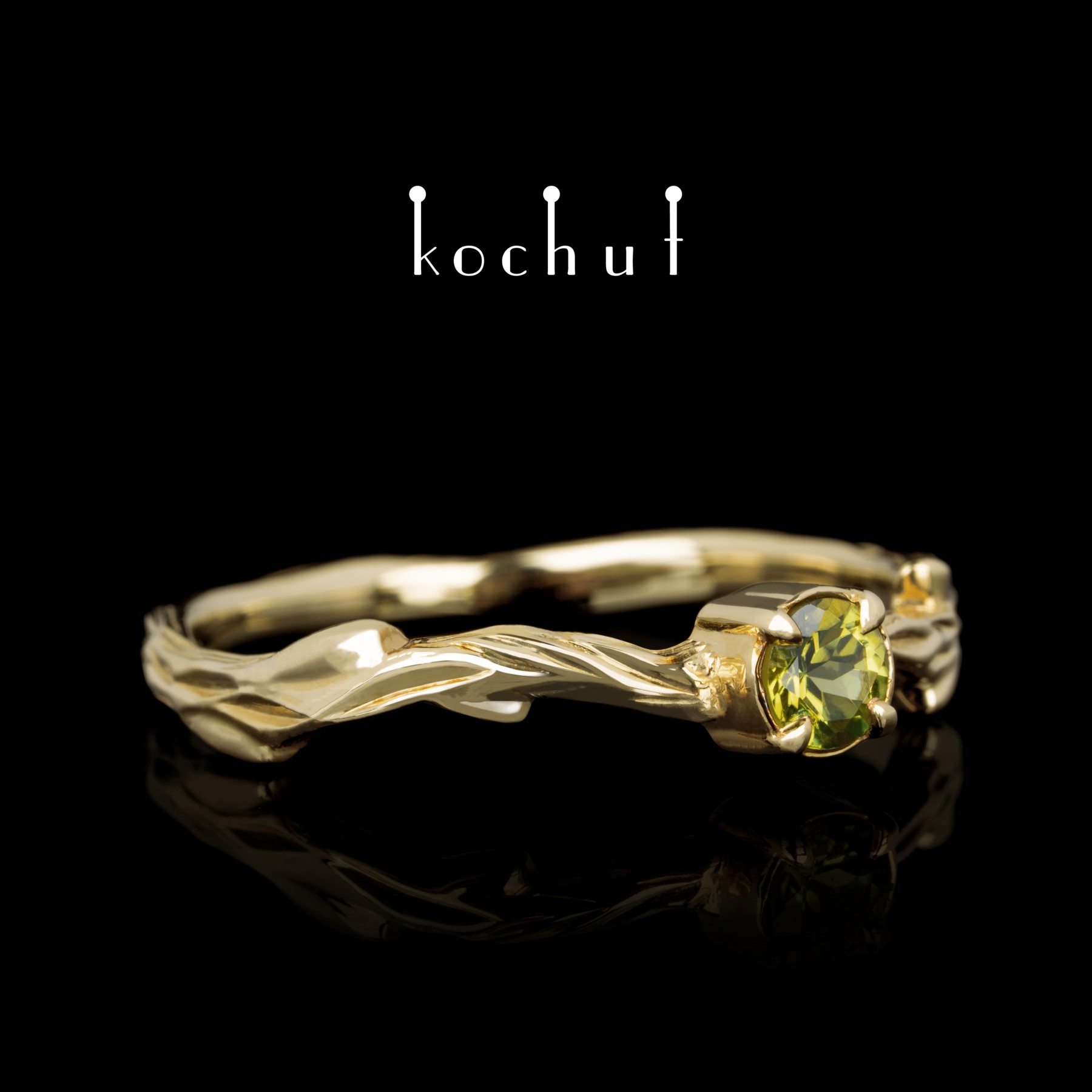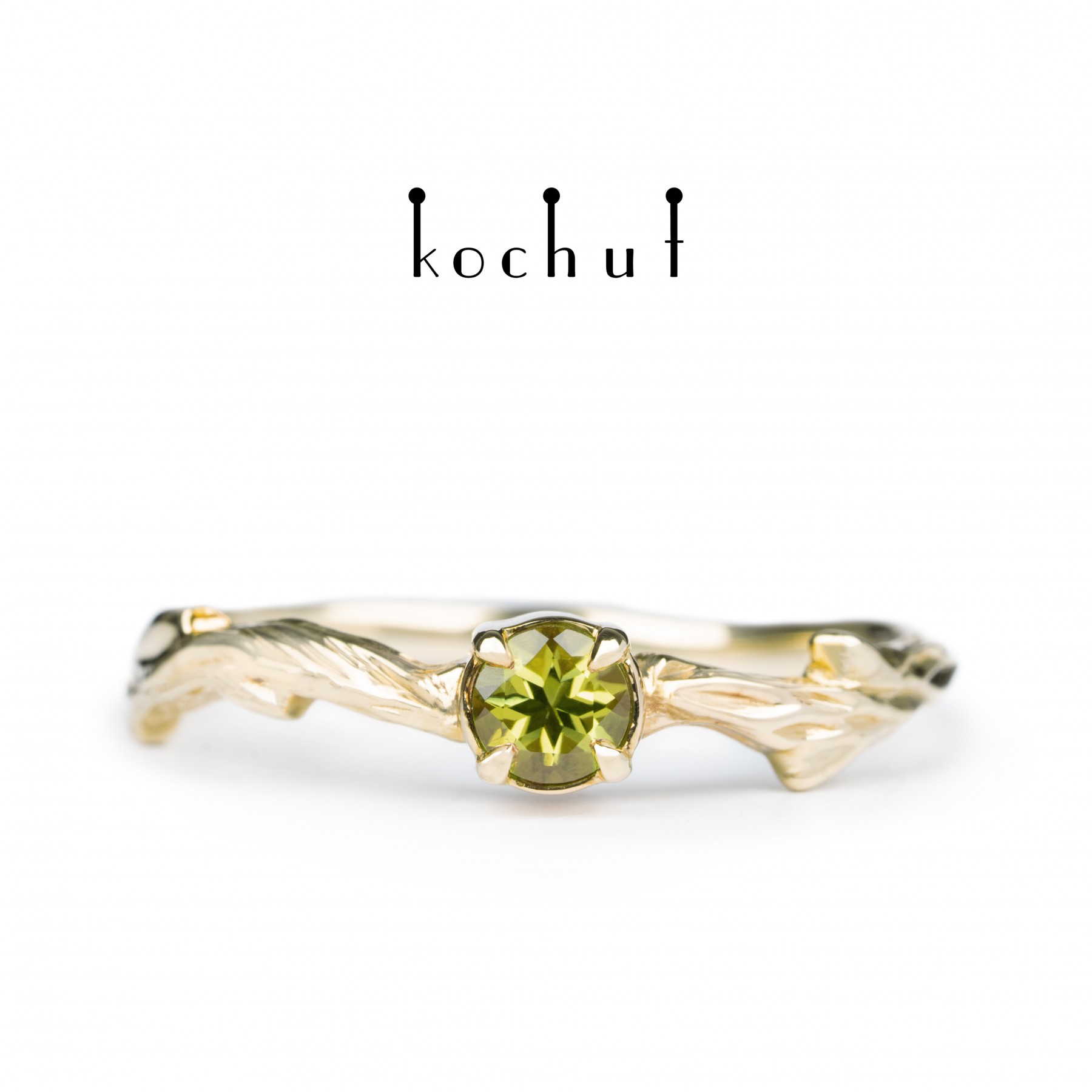 March twig — gold chrysolite ring
Laos
Production time to order is approximately 25 working days.
Selle mudeli muud variandid:
Kirjeldus
Walking barefoot over silky green grass on a radiant summer day is one of life's most pleasant sensations. See the fresh juices of berries on your fingers, take the succulent perfumes of nature into every cell of your body, feel the presence of the world in your soul.
A fresh summer breeze winds its way around your neck and over your eyelashes, leaving no trace save for a subtle swell of heat. It floats over the grass like a smiling passer-by and raises its gaze to the distant blue sky. On the trees, delicate twigs inhale the aroma of the sun and wind and sense the continuity of the Earth. Nature is a universe within the universe that resembles the colours of summer, the hues of a rainbow and the resplendence of flowers. The colour green carries great significance for us, subconsciously symbolizing growth, physical and spiritual development and harmony with nature.
Green soothes us and provides us with a feeling of lightness and security. Generosity and reliability are its middle names. It is pleasing to the eyes, and we are sure that our «Twig» collection will be pleasing to your heart.
The ring is a particularly feminine one, and one might even say it is creatively radiant. It's crafted from yellow gold and featuring chrysolite inserts, which are perfect for any style and masterfully underscore a woman's natural beauty.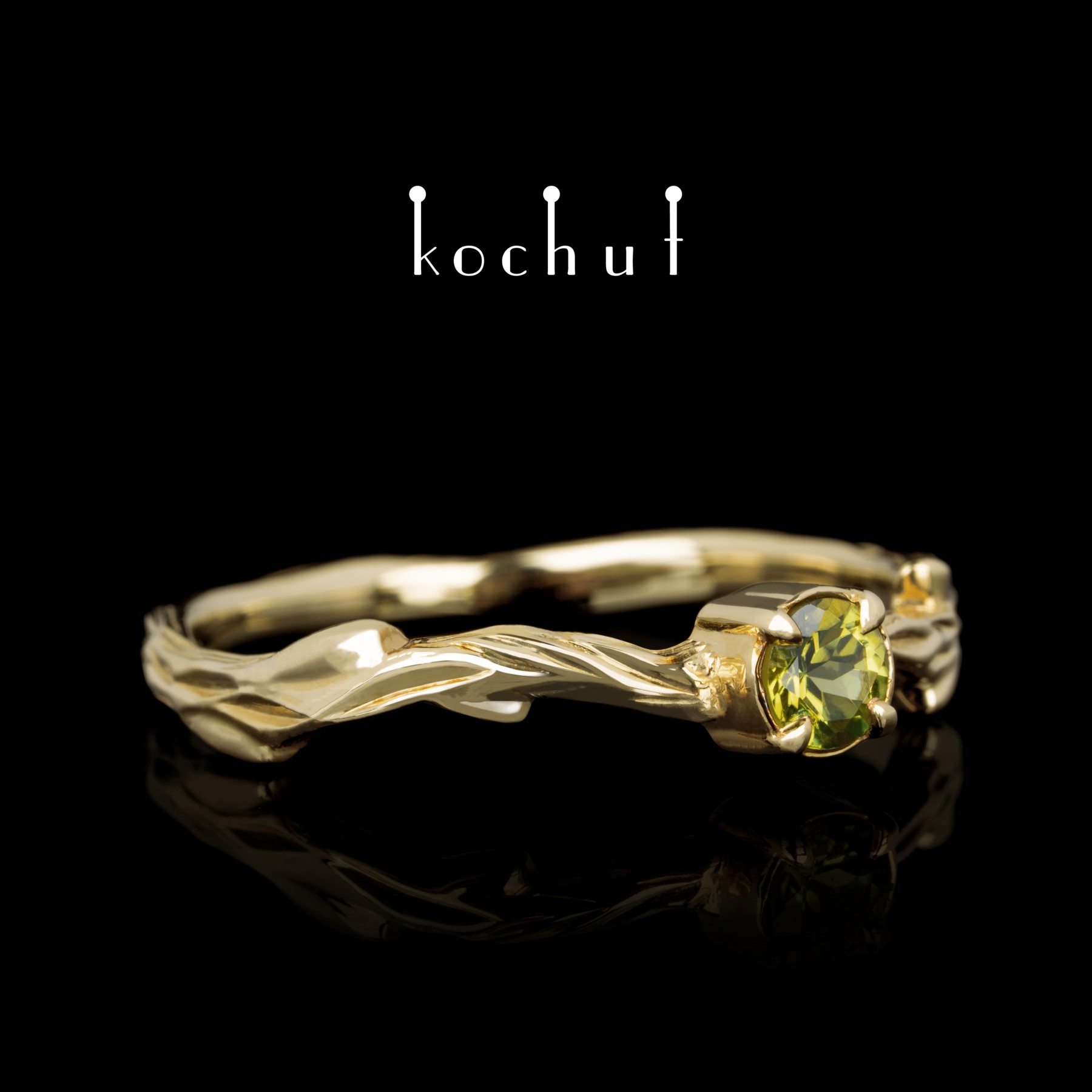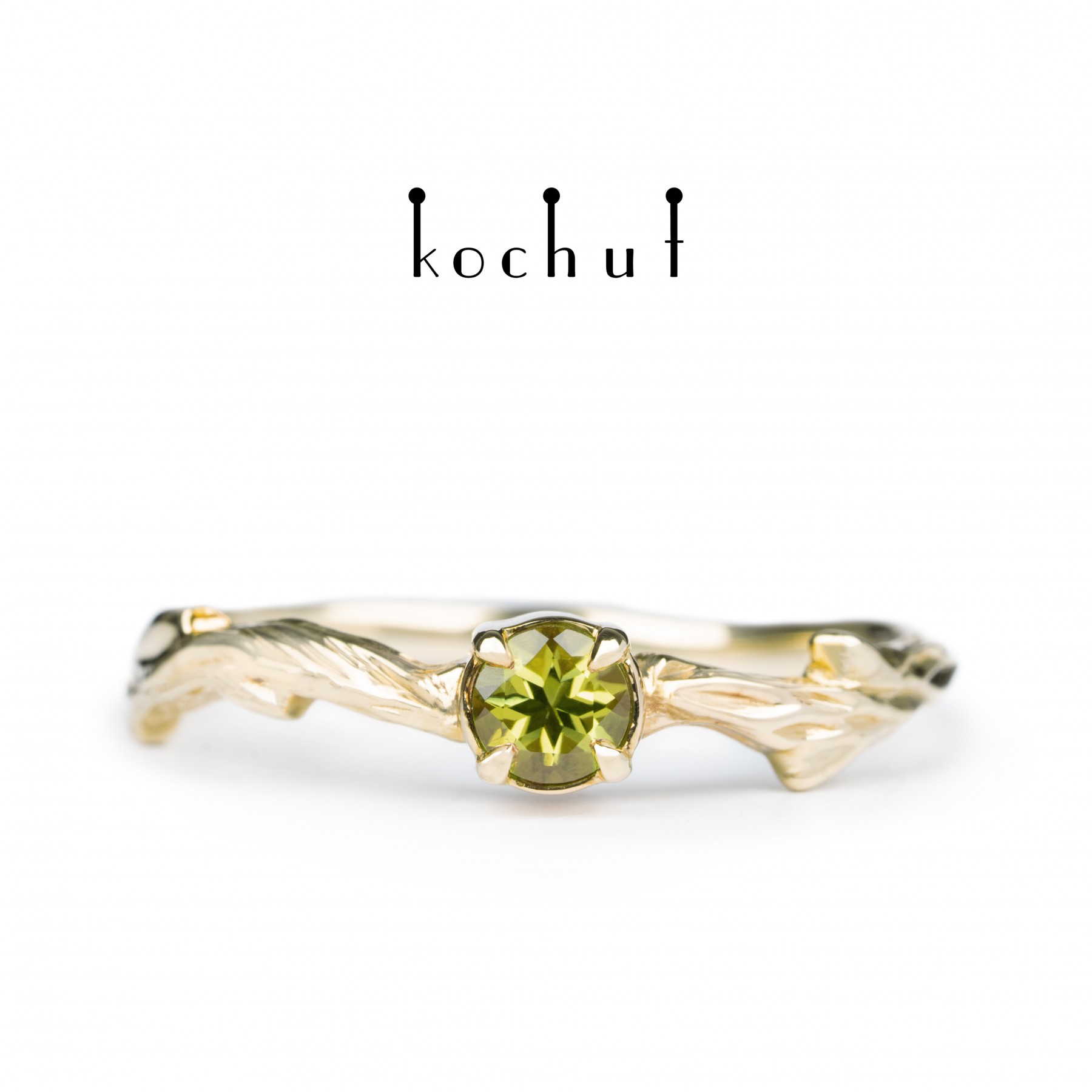 Privaatsuseelistuste keskus
Kui külastate mõnda veebisaiti, võib see salvestada või saada teavet teie brauserist, peamiselt küpsiste kujul. See teave võib puudutada teid, teie eelistusi, teie seadet või seda võib kasutada saidi ootuspäraseks toimimiseks. Seda teavet ei kasutata tavaliselt teie tuvastamiseks, kuid see võib pakkuda teile isikupärastatumat veebis surfamise kogemust. Võite teatud tüüpi küpsiseid keelata või takistada nende toimimist. Lisateabe saamiseks ja vaikesätete muutmiseks klõpsake erinevate kategooriate pealkirjadel. Siiski peaksite teadma, et teatud tüüpi küpsiste blokeerimine võib mõjutada teie kogemust saidil ja teenuseid, mida saame pakkuda. Rohkem informatsiooni.
Nõutavad küpsised
Alati Aktiivne
Need küpsised on veebisaidi funktsioneerimiseks hädavajalikud ja neid ei saa välja lülitada. Tavaliselt käivituvad need ainult vastusena kasutaja toimingutele, nagu teatud teenuste taotlemine, privaatsuseelistuste seadmine, sisselogimine või vormide täitmine. Saate seadistada oma veebibrauseri neid küpsiseid blokeerima või nende eest hoiatama, kuid sait kaotab sel juhul osa oma funktsioonidest. Need küpsised ei salvesta isikut tuvastavat teavet.
Need küpsised võimaldavad meil lugeda nii meie saidi külastuste arvu kui ka liikluse allikaid, et saaksime selle toimivust mõõta ja parandada. Need aitavad meil teada saada, milliseid lehti külastajad sageli vaatavad ja millised on kõige vähem populaarsed. Kogu teave, mida need küpsised koguvad, on integreeritud ja seega anonüümne. Kui te ei luba neid küpsiseid kasutada, ei saa me teada, millal te meie saidile sisenesite ja me ei saa selle toimivust.
Need küpsised võimaldavad veebisaidil pakkuda täiustatud kasutajafunktsioone, mis muudab teie sirvimiskogemuse isikupärasemaks. Neid saab paigaldada kas meie ise või kolmandad osapooled, kelle teenused oleme oma lehtedele lisanud. Kui te ei luba nende küpsiste kasutamist, ei pruugi mõned või kõik teenused õigesti või üldse töötad
Reklaam ja sotsiaalmeedia
Neid küpsiseid võivad meie veebisaidi kaudu kasutada meie reklaamipartnerid. Neid saab kasutada teie huvide profiilimiseks ja teie reklaamihuvide kuvamiseks teistel saitidel. Need küpsised ei salvesta otseselt isikut tuvastavat teavet, vaid pigem tuvastavad teie veebibrauseri ja seadme. Kui te ei luba nende küpsiste kasutamist, saate vähem isikupärastatud reklaame.