EE
Baltic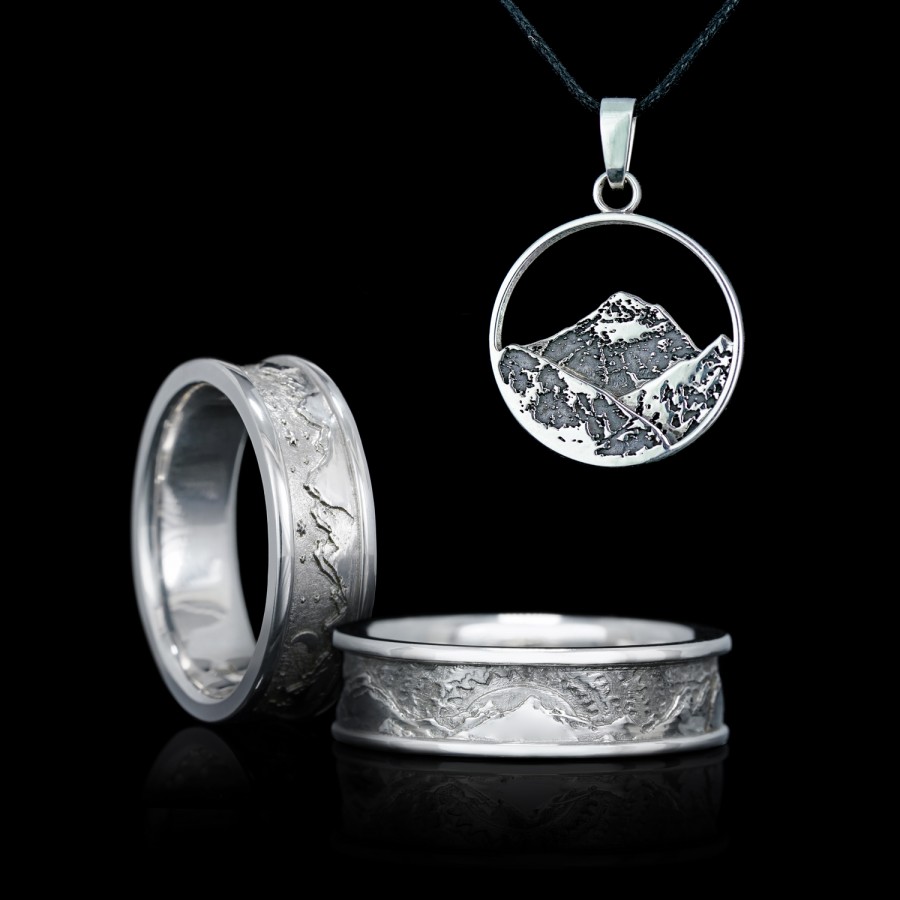 Lofty Heights
When the mountains and love, those things that push the soul and the body to reach its highest peaks, were the objects of our desires. We engraved these feelings in silver and gold. The collection includes pendants, wedding rings, rings and earrings with mountain motifs.

Soul and body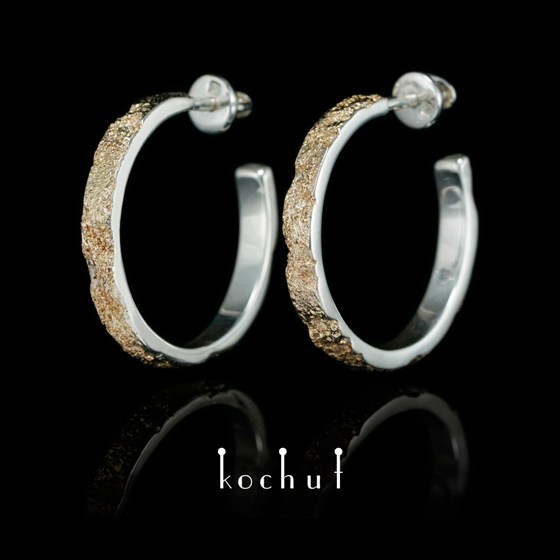 Tree of Life
The cycle of endless renewal. A tree that feeds, shelters and fills all beings with peace. Carefree contemplation of the ephemerality of life. We accept the joys of life, forgiving them of their fragility. We grow by forgiving ourselves of change. There is nothing closer to humankind than this tree atop its hill, which is why we so dearly wanted to depict it wherever we could: on wedding rings, to remember our common values; on pendants, that it could serve as an amulet; or even on earrings, because it is, after all, so very beautiful.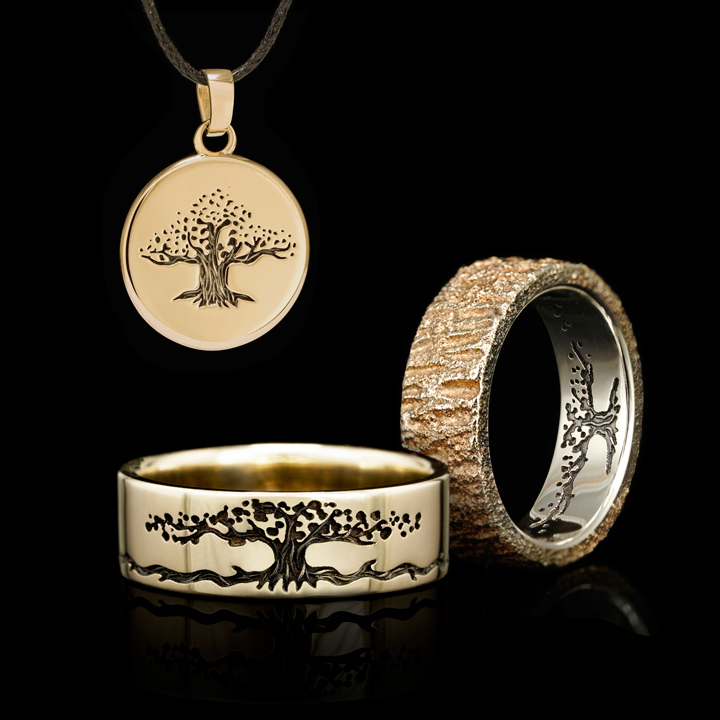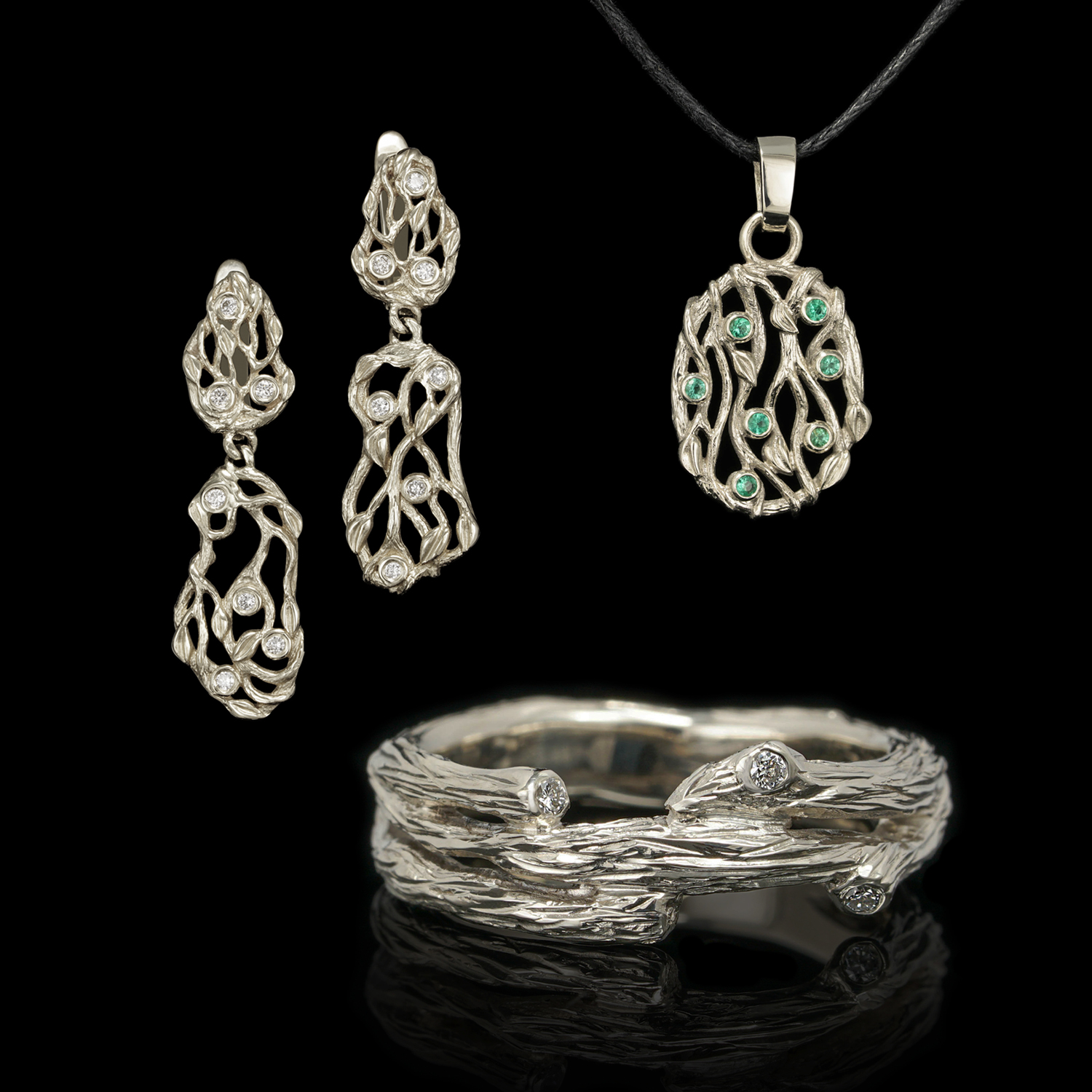 Forest Elements
Luxury from every angle. It poses in front of us in the guise of a tender branch, ripe fruits and brilliantly coloured leaves. The rings, earrings, pendants and engagement rings from this collection emphasize the wearer's vivid and essential nature. «Sunny Forest», «The Joy of Life», «Wood Fairy» and other pieces from this collection are an invitation to emulate Nature herself.

Classic Inspiration
Rings that shall undoubtedly remain objects of desire. Rings that do not bring the wearer to confess feelings of love, but rather, rings that make the wearer simply want to love! All that's left to do is choose the perfect wedding rings from this collection to pair with them. Classic sophistication featuring a plurality of diamonds and shapes that have captivated us for centuries. «Without a shadow of a doubt» — no turn of phrase better captures the essence of this collection.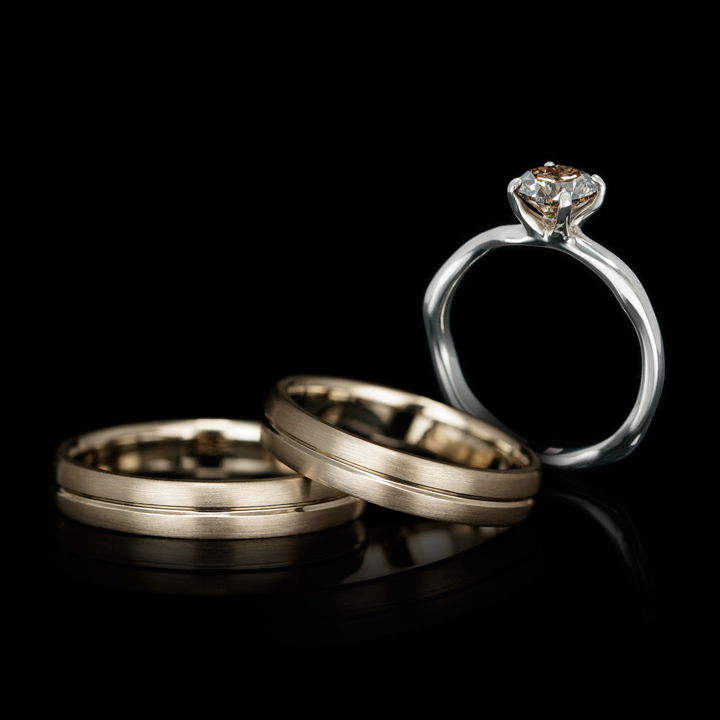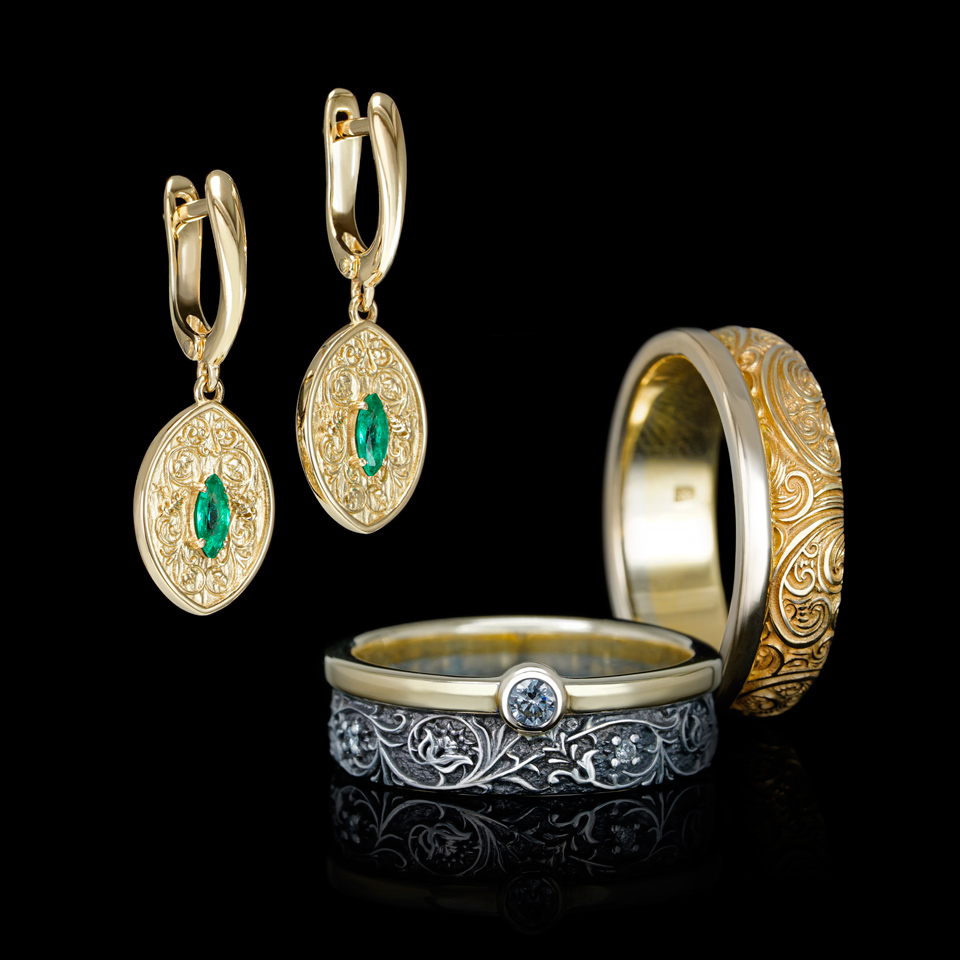 Harmony of feelings
This collection includes a variety of engagement rings, rings, and earrings with delicate patterns that will mesmerise all who behold them. The delicate airiness of each lift and flow carved into the metal is born of Nature and lives on in our feelings. We believe in harmony. Therefore, we must create it, and now you can do the same.

The sky inside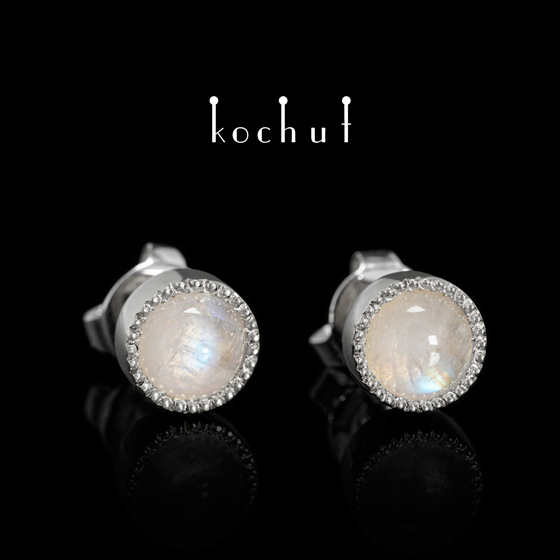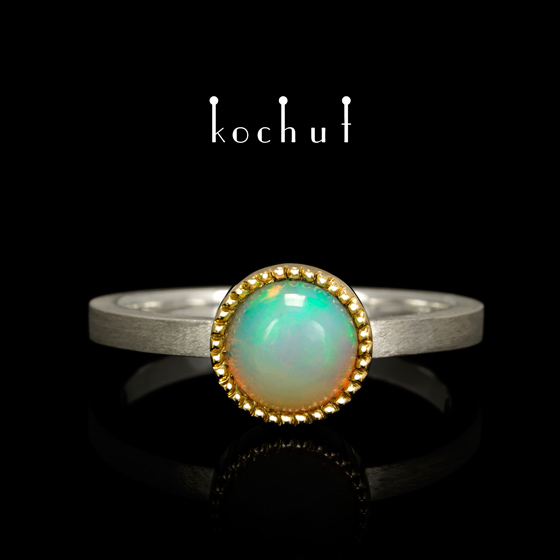 Bird
It was the spring of 2017. One of the brothers, Roman Kochut, went for a walk with his son. The boy was still young, just a year old, and the spring sun brought him great joy. A bird suddenly flew to a nearby tree, perched on a branch and began to sing. The boy smiled as if he were witnessing a true miracle. Roman Kochut remembers this moment very vividly. When he returned to his workshop that evening, he made a model and embodied the singing bird on the tree in silver and gold.
The first «Bird» ring began from this story. The collection now includes rings, earrings, pendants and brooches. Feel the spring at your fingertips!
Mobius ribbon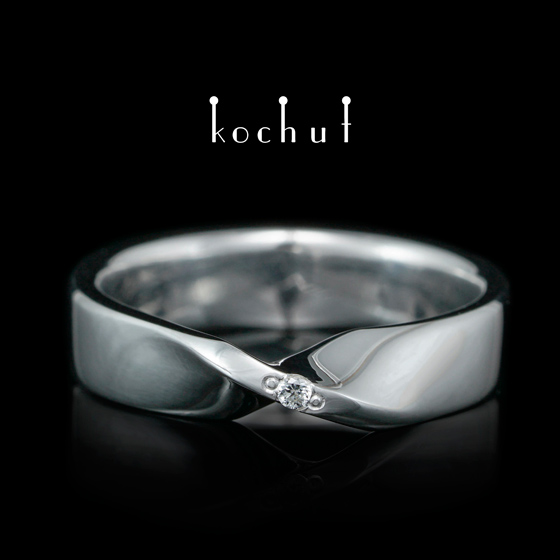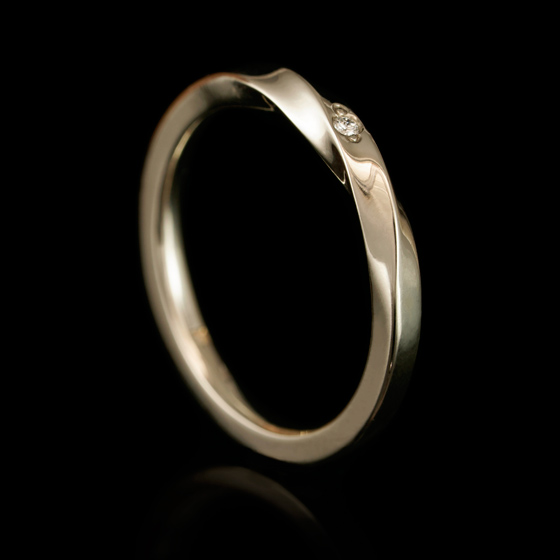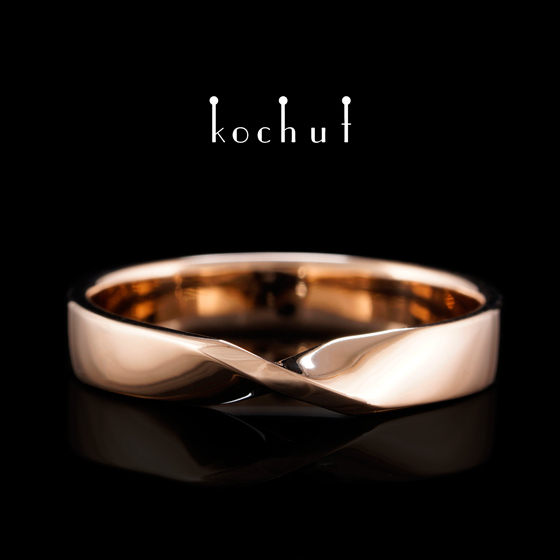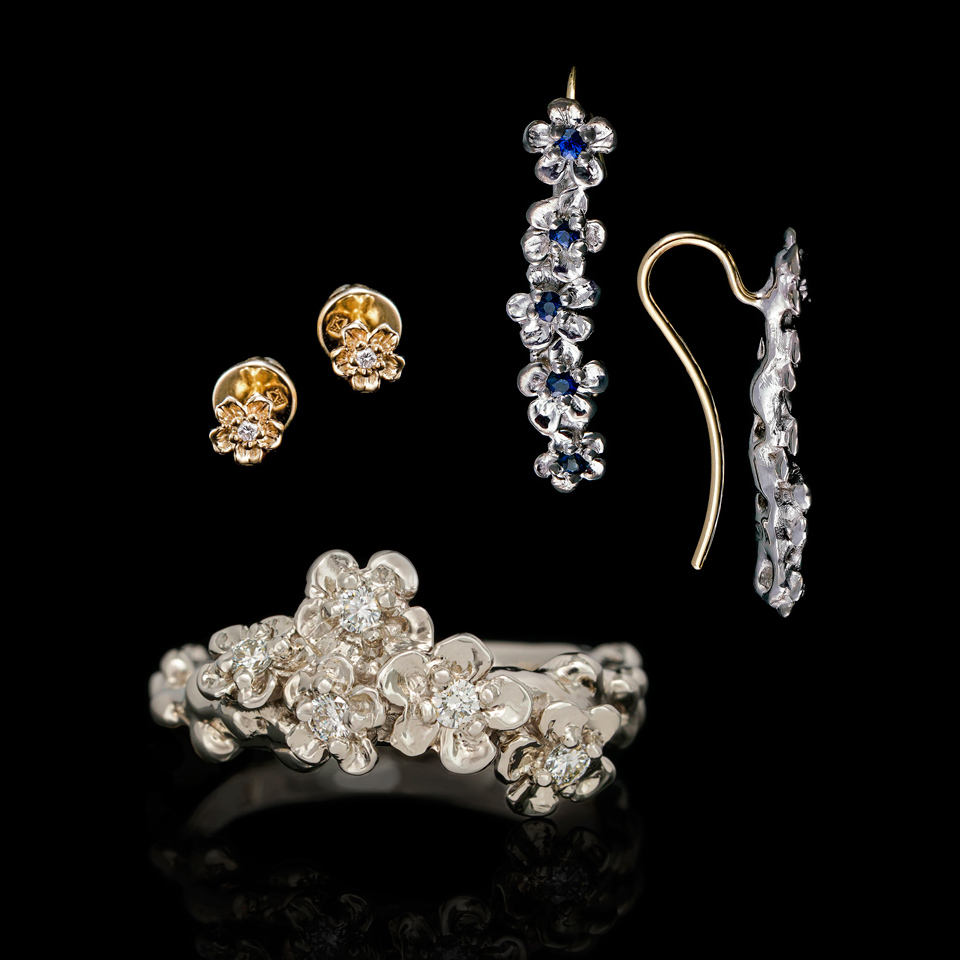 Floral Symphony
If a flower is a compliment to a woman from God, then this collection is an all-encompassing tribute from our jewellers. We took special care to create novel, unexpected, and even perhaps slightly provocative pieces in order to emphasize the uniqueness of each and every flower, as well as each and every one of you. We have left ample room for imagination, and encourage you to mix and match earrings, pendants, rings, and engagement rings from this collection to produce a result that will blossom forth magnificently!

Kas olete huvitatud rohkematest ehetest? Sirvige meie kataloogi
Privaatsuseelistuste keskus
Kui külastate mõnda veebisaiti, võib see salvestada või saada teavet teie brauserist, peamiselt küpsiste kujul. See teave võib puudutada teid, teie eelistusi, teie seadet või seda võib kasutada saidi ootuspäraseks toimimiseks. Seda teavet ei kasutata tavaliselt teie tuvastamiseks, kuid see võib pakkuda teile isikupärastatumat veebis surfamise kogemust. Võite teatud tüüpi küpsiseid keelata või takistada nende toimimist. Lisateabe saamiseks ja vaikesätete muutmiseks klõpsake erinevate kategooriate pealkirjadel. Siiski peaksite teadma, et teatud tüüpi küpsiste blokeerimine võib mõjutada teie kogemust saidil ja teenuseid, mida saame pakkuda. Rohkem informatsiooni.
Nõutavad küpsised
Alati Aktiivne
Need küpsised on veebisaidi funktsioneerimiseks hädavajalikud ja neid ei saa välja lülitada. Tavaliselt käivituvad need ainult vastusena kasutaja toimingutele, nagu teatud teenuste taotlemine, privaatsuseelistuste seadmine, sisselogimine või vormide täitmine. Saate seadistada oma veebibrauseri neid küpsiseid blokeerima või nende eest hoiatama, kuid sait kaotab sel juhul osa oma funktsioonidest. Need küpsised ei salvesta isikut tuvastavat teavet.
Need küpsised võimaldavad meil lugeda nii meie saidi külastuste arvu kui ka liikluse allikaid, et saaksime selle toimivust mõõta ja parandada. Need aitavad meil teada saada, milliseid lehti külastajad sageli vaatavad ja millised on kõige vähem populaarsed. Kogu teave, mida need küpsised koguvad, on integreeritud ja seega anonüümne. Kui te ei luba neid küpsiseid kasutada, ei saa me teada, millal te meie saidile sisenesite ja me ei saa selle toimivust.
Need küpsised võimaldavad veebisaidil pakkuda täiustatud kasutajafunktsioone, mis muudab teie sirvimiskogemuse isikupärasemaks. Neid saab paigaldada kas meie ise või kolmandad osapooled, kelle teenused oleme oma lehtedele lisanud. Kui te ei luba nende küpsiste kasutamist, ei pruugi mõned või kõik teenused õigesti või üldse töötad
Reklaam ja sotsiaalmeedia
Neid küpsiseid võivad meie veebisaidi kaudu kasutada meie reklaamipartnerid. Neid saab kasutada teie huvide profiilimiseks ja teie reklaamihuvide kuvamiseks teistel saitidel. Need küpsised ei salvesta otseselt isikut tuvastavat teavet, vaid pigem tuvastavad teie veebibrauseri ja seadme. Kui te ei luba nende küpsiste kasutamist, saate vähem isikupärastatud reklaame.