EE
Baltic
How to choose an engagement ring
13.03.2020
&nbsp 8903
Choosing an engagement ring is often not easy. Particularly for those who want to find an exceptional piece of jewelry that would absolutely blow her mind. If You are among those who treat choosing a ring with great care, then we will help You make the right choice.

PROPOSAL CHECK-LIST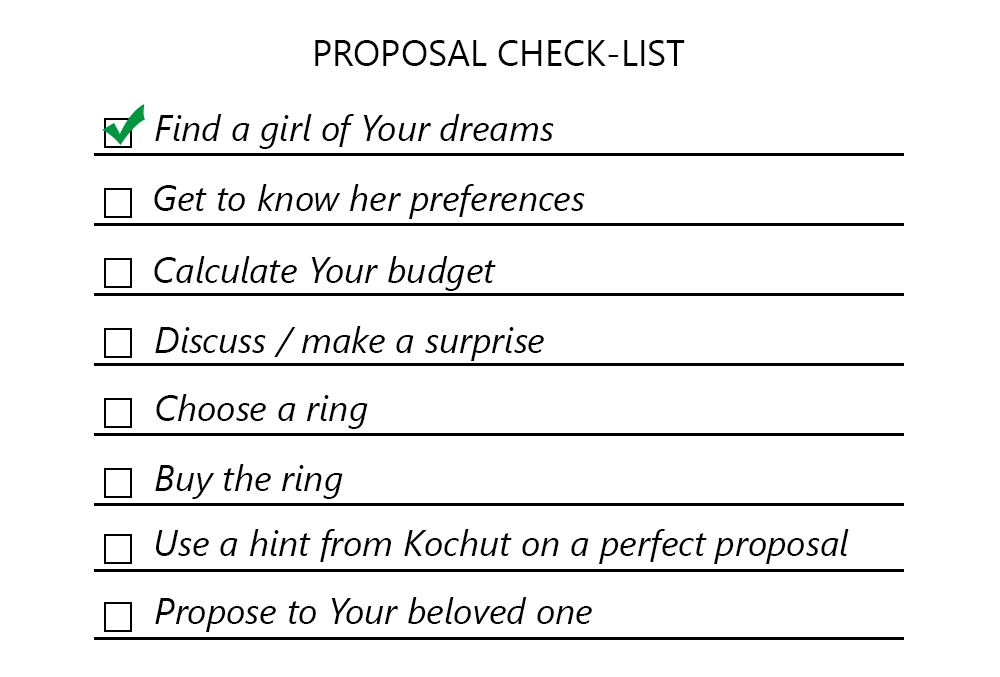 How much should an engagement ring cost?
There is a rule on the Internet that an engagement ring should cost two monthly salaries. The author of this idea is a marketer who decided to increase the expenses of men. This rule is pointless, being just a marketing ploy.

Count on Your financial capacity. You do not have to drive Yourself into a financial pit to buy a ring for crazy money.
Make a choice together
If You are not 100% sure about Your girlfriend tastes, then it's better to discuss the future ring. Try to figure out which style she prefers (neat and classic or something uncommon with natural motifs), or central stone or placer ring?
But it makes all the romantics vanish! It's not quite true. First, Your beloved one will not know how the ring would look like and when the moment for proposal will come. Secondly, if You are in a long relationship by now, then in most cases the conversation about marriage has already had a place and marriage won't be big news to anyone.
Anyways, this does not mean that You can just say: "Go ahead and choose anything You like". You need to know which style, what kind of gems and metals Your woman prefers. Here is an example of a good option for a talk:
"I know that we have already talked about marriage somehow, but there is another thing that worries me. I want to talk about the ring. It's important for me to know how do You see it, because I want You to like it"
Why would such a message work?
You let her know that You want to do it together and her opinion is important
You act frankly and sincerely
Disney motif also has a place
Our poll result showed that 56% prefer the hint/clue and 44% - the man to choose himself.

However, it's You to decide which way to follow. You have to feel what Your loved one would like the most.
Size matters
Make sure You know the right size of her finger. Trust us, You don't want a situation when the ring would come off the finger with just one gesture or simply won't fit. No one needs problems with size adjustment.
To avoid any mistakes, we recommend reading our article on "How to determine the size of Your finger".
The secret to make a special proposal

So You determined Your budget, figured out her tastes, preferences, size of a ring and bought one. Here follows the most exciting moment - the proposal. At this point, Your creativity steps in. But whatever scenario You choose, from the basic to the most romantic and demanding, there is one more important thing. The box.

The original box will make Your marriage proposal even more magic and charming.
We designed a box with a swivel mechanism so that You would conveniently and neatly carry it in the pocket of Your jacket or pants. It would seem as if there is a wallet or a smartphone, which is hard to say about a classic square box. They can easily expose a momentous plan and cause some discomfort in the pockets due to compression.
But this is not all….The opening mechanism of the box is made to show all the astonishing beauty of a gem. Against this background, the ring will shine brighter and cause total admiration.
So what is the most important?
Her tastes and preferences. This is the most important thing You need to know in order to give the exceptional ring as a gift. Are You sure she will love it? Then go ahead with the purchase and make a surprise. If not, then consider doing it together. Because You care what to dive, don't You?

You should not act inconsiderably. The engagement ring is not just another present, but a special piece of jewelry.
Choosing Kochut jewelry will let us make everything possible for her to remember this day for the rest of her life. Go to the "Engagement Rings" and "Jewelry Boxes" to make a perfect marriage proposal. If a product turns out to be unavailable, we will make it specially for You. In addition, we will advise You on choosing the best gemstones for the future jewelry.
Jätke kommentaar Facebooki kaudu:
Privaatsuseelistuste keskus
Kui külastate mõnda veebisaiti, võib see salvestada või saada teavet teie brauserist, peamiselt küpsiste kujul. See teave võib puudutada teid, teie eelistusi, teie seadet või seda võib kasutada saidi ootuspäraseks toimimiseks. Seda teavet ei kasutata tavaliselt teie tuvastamiseks, kuid see võib pakkuda teile isikupärastatumat veebis surfamise kogemust. Võite teatud tüüpi küpsiseid keelata või takistada nende toimimist. Lisateabe saamiseks ja vaikesätete muutmiseks klõpsake erinevate kategooriate pealkirjadel. Siiski peaksite teadma, et teatud tüüpi küpsiste blokeerimine võib mõjutada teie kogemust saidil ja teenuseid, mida saame pakkuda. Rohkem informatsiooni.
Nõutavad küpsised
Alati Aktiivne
Need küpsised on veebisaidi funktsioneerimiseks hädavajalikud ja neid ei saa välja lülitada. Tavaliselt käivituvad need ainult vastusena kasutaja toimingutele, nagu teatud teenuste taotlemine, privaatsuseelistuste seadmine, sisselogimine või vormide täitmine. Saate seadistada oma veebibrauseri neid küpsiseid blokeerima või nende eest hoiatama, kuid sait kaotab sel juhul osa oma funktsioonidest. Need küpsised ei salvesta isikut tuvastavat teavet.
Need küpsised võimaldavad meil lugeda nii meie saidi külastuste arvu kui ka liikluse allikaid, et saaksime selle toimivust mõõta ja parandada. Need aitavad meil teada saada, milliseid lehti külastajad sageli vaatavad ja millised on kõige vähem populaarsed. Kogu teave, mida need küpsised koguvad, on integreeritud ja seega anonüümne. Kui te ei luba neid küpsiseid kasutada, ei saa me teada, millal te meie saidile sisenesite ja me ei saa selle toimivust.
Need küpsised võimaldavad veebisaidil pakkuda täiustatud kasutajafunktsioone, mis muudab teie sirvimiskogemuse isikupärasemaks. Neid saab paigaldada kas meie ise või kolmandad osapooled, kelle teenused oleme oma lehtedele lisanud. Kui te ei luba nende küpsiste kasutamist, ei pruugi mõned või kõik teenused õigesti või üldse töötad
Reklaam ja sotsiaalmeedia
Neid küpsiseid võivad meie veebisaidi kaudu kasutada meie reklaamipartnerid. Neid saab kasutada teie huvide profiilimiseks ja teie reklaamihuvide kuvamiseks teistel saitidel. Need küpsised ei salvesta otseselt isikut tuvastavat teavet, vaid pigem tuvastavad teie veebibrauseri ja seadme. Kui te ei luba nende küpsiste kasutamist, saate vähem isikupärastatud reklaame.