EE
Baltic
Empress Kojun — green diamond mokume ring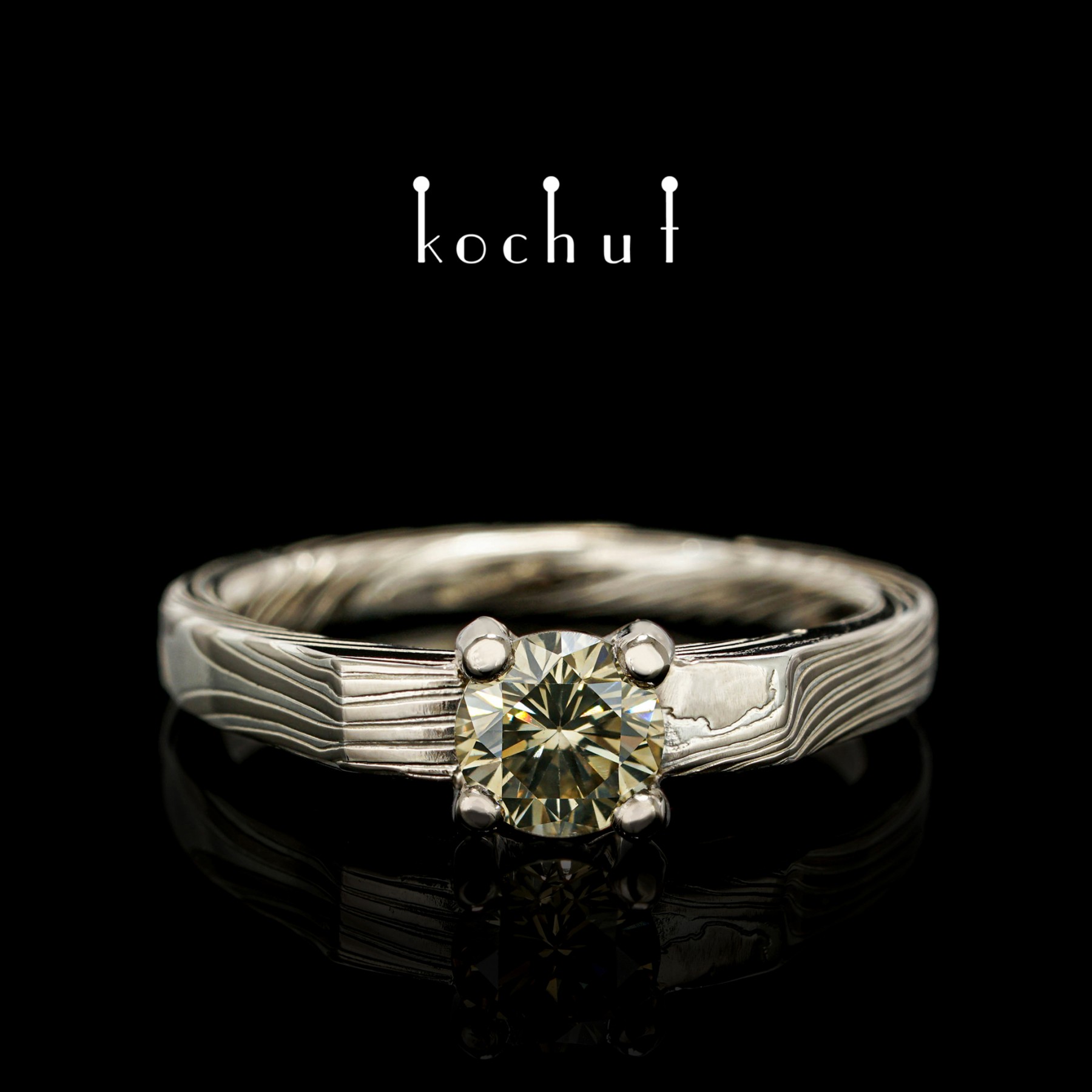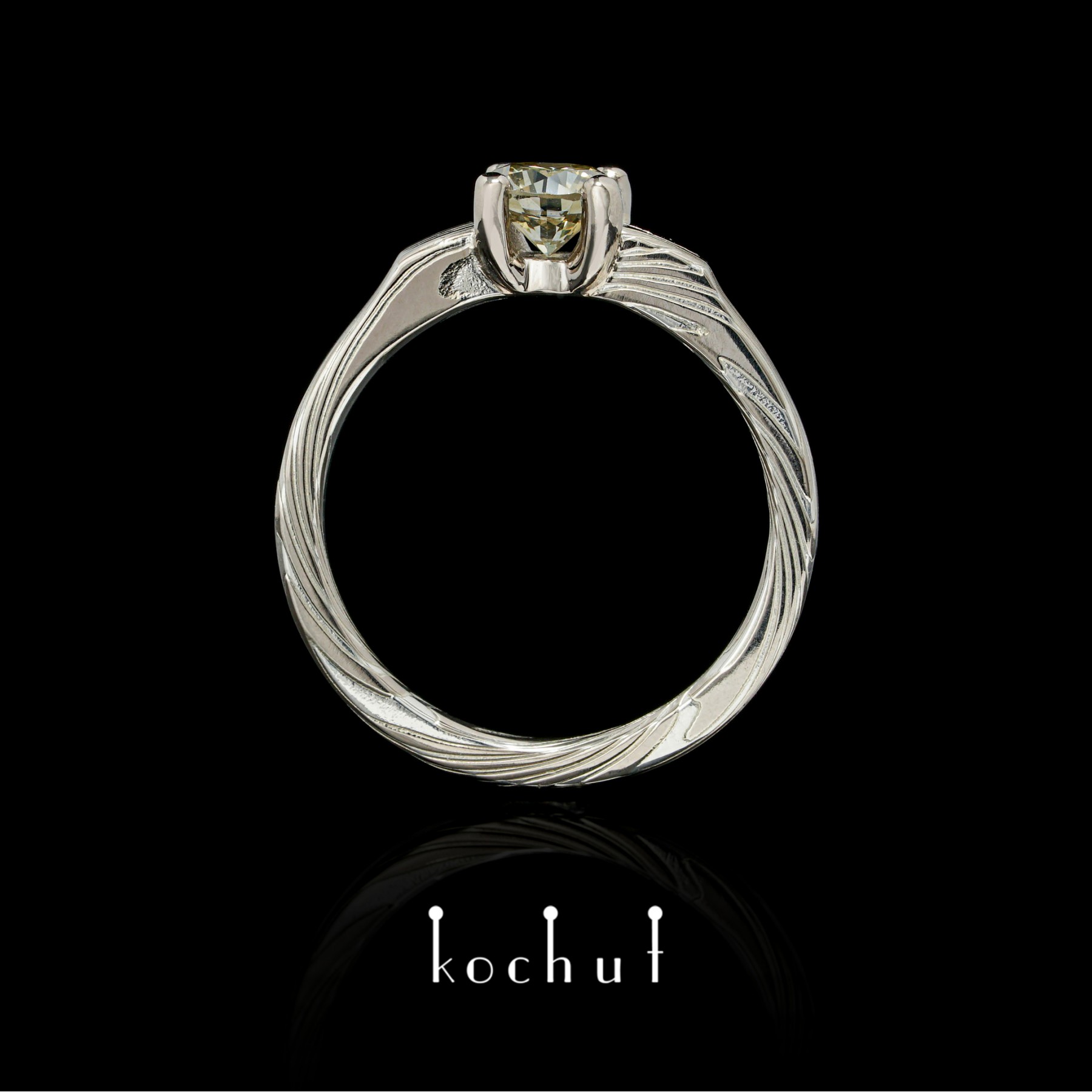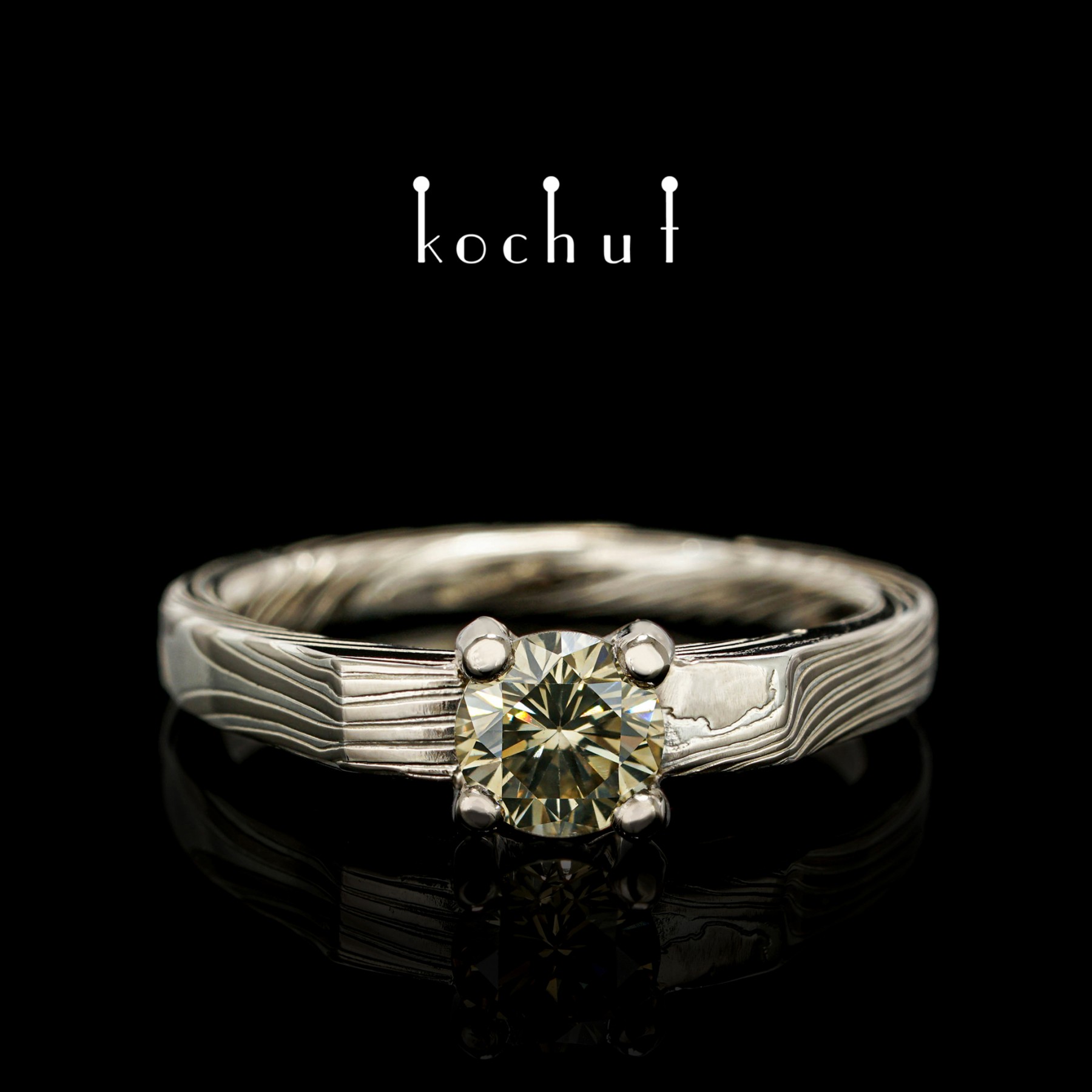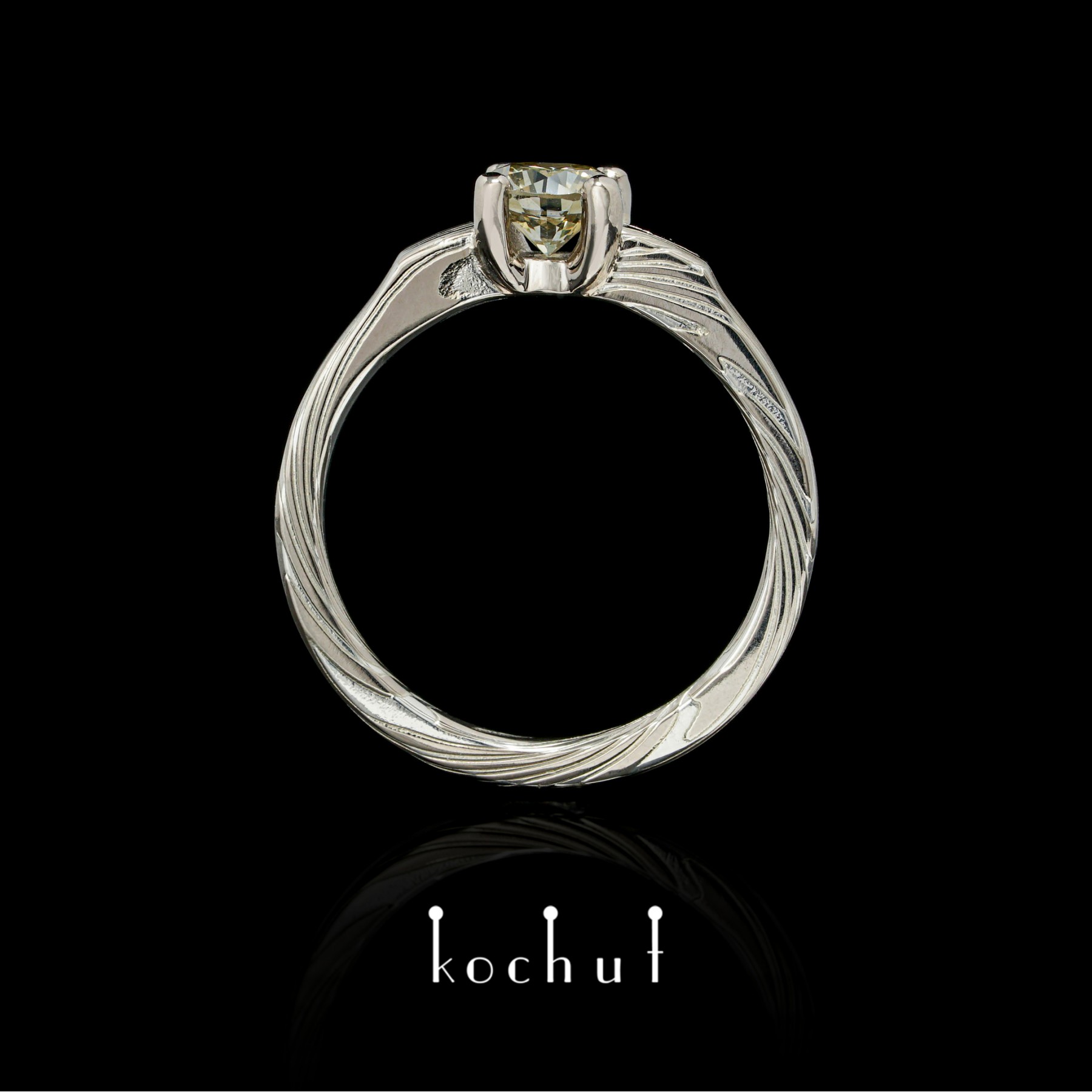 Empress Kojun — green diamond mokume ring
Out of stock
Characteristics
Metal:
Palladium 14K gold, sterling silver
Insert:
Diamond 0.61 ct (5,35 мм)
Selle mudeli muud variandid:
Kirjeldus
The Laughing Empress — this is the name the people gave to the Empress that served for seventy-four years, the longest reign of any female in the history of Japan.
She has to smile to retain her place in history. Skipping ahead, I'd like to point out that this ring was forged using the mokume gane technique in order to lend a particular energy to it. This is a ring is about women who will remain forever in the heart of the ages. It is for those who stroll about the city in the springtime and can confer inspiration to last the whole day with a single smile. It is for those who save the world all year round. This ring is a tribute to beauty that is timeless, a recognition that others see and feel this power. She is wondrous, her grace unrivalled.
A deep breath and a glance that takes effort to divert. Warmth that floods the body and opens the heart with the key of words most sincere. This is the love of the Empress. Her gait is the wind, and you must be made of stone to not follow it.
Authentic mokume gane technique reveals an indescribably captivating combination of silver and palladium gold alongside a royal green diamond housed in a palladium gold caste. Nothing less is acceptable when it comes to the «Empress Kojun» ring.
Please note that this piece takes 3-4 weeks to produce.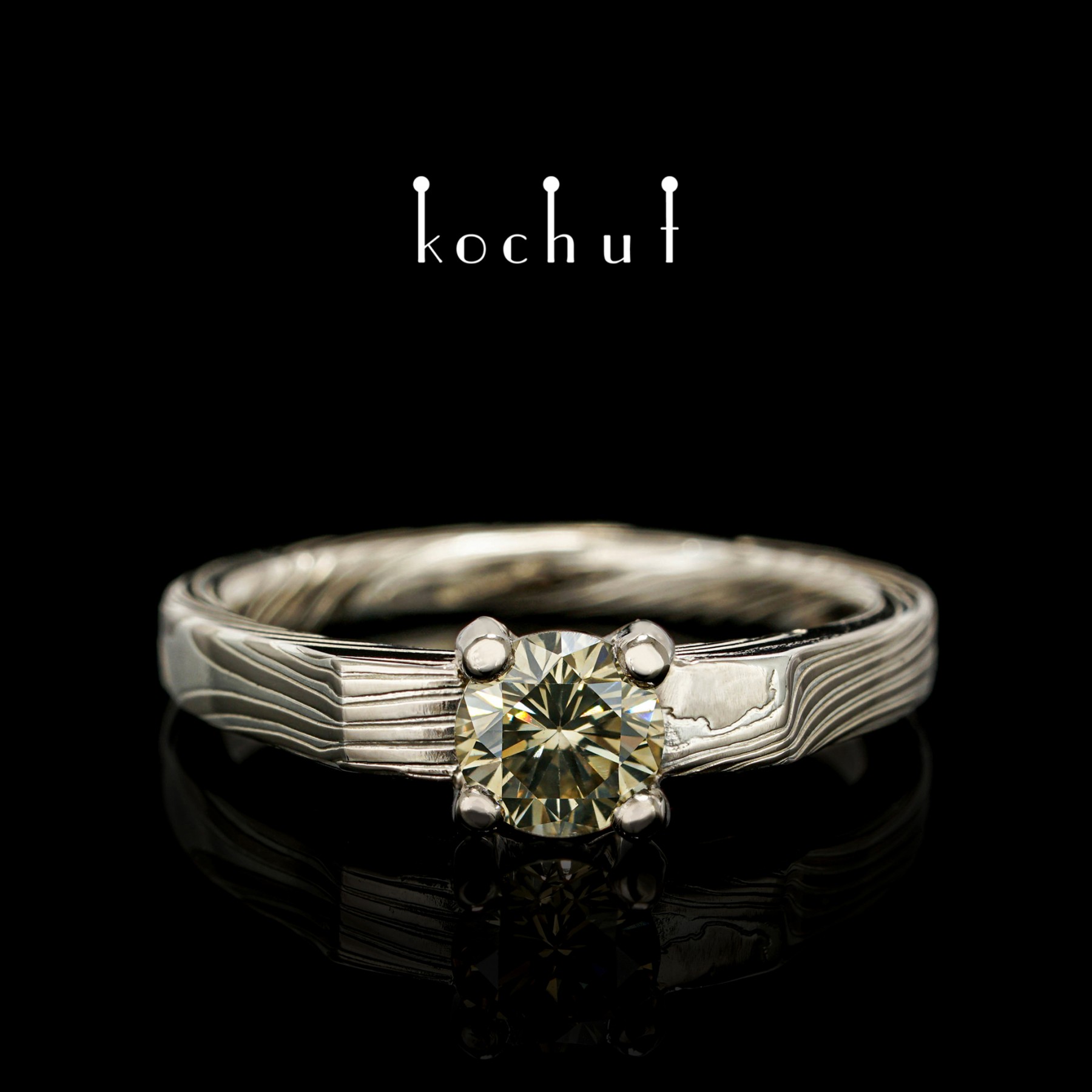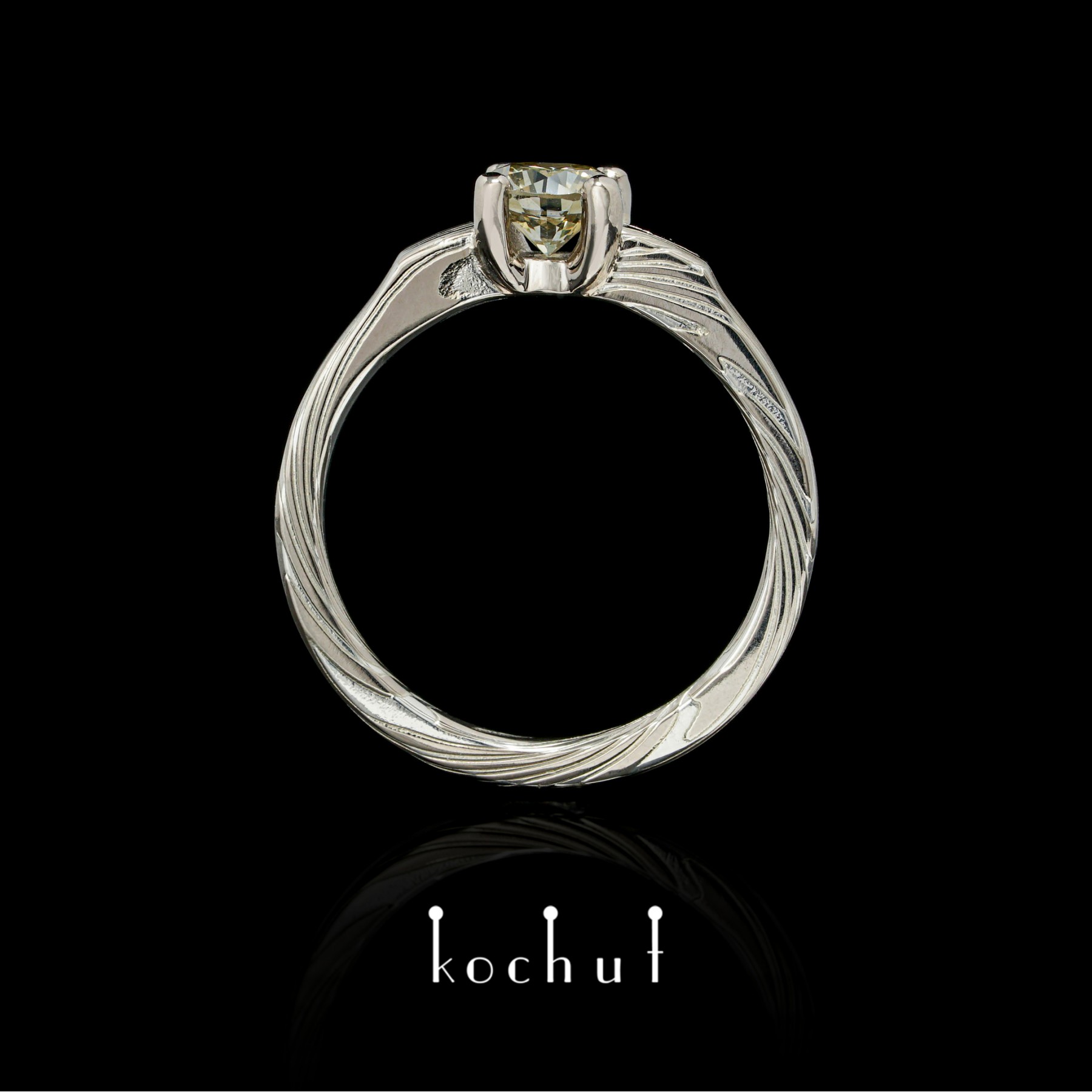 Privaatsuseelistuste keskus
Kui külastate mõnda veebisaiti, võib see salvestada või saada teavet teie brauserist, peamiselt küpsiste kujul. See teave võib puudutada teid, teie eelistusi, teie seadet või seda võib kasutada saidi ootuspäraseks toimimiseks. Seda teavet ei kasutata tavaliselt teie tuvastamiseks, kuid see võib pakkuda teile isikupärastatumat veebis surfamise kogemust. Võite teatud tüüpi küpsiseid keelata või takistada nende toimimist. Lisateabe saamiseks ja vaikesätete muutmiseks klõpsake erinevate kategooriate pealkirjadel. Siiski peaksite teadma, et teatud tüüpi küpsiste blokeerimine võib mõjutada teie kogemust saidil ja teenuseid, mida saame pakkuda. Rohkem informatsiooni.
Nõutavad küpsised
Alati Aktiivne
Need küpsised on veebisaidi funktsioneerimiseks hädavajalikud ja neid ei saa välja lülitada. Tavaliselt käivituvad need ainult vastusena kasutaja toimingutele, nagu teatud teenuste taotlemine, privaatsuseelistuste seadmine, sisselogimine või vormide täitmine. Saate seadistada oma veebibrauseri neid küpsiseid blokeerima või nende eest hoiatama, kuid sait kaotab sel juhul osa oma funktsioonidest. Need küpsised ei salvesta isikut tuvastavat teavet.
Need küpsised võimaldavad meil lugeda nii meie saidi külastuste arvu kui ka liikluse allikaid, et saaksime selle toimivust mõõta ja parandada. Need aitavad meil teada saada, milliseid lehti külastajad sageli vaatavad ja millised on kõige vähem populaarsed. Kogu teave, mida need küpsised koguvad, on integreeritud ja seega anonüümne. Kui te ei luba neid küpsiseid kasutada, ei saa me teada, millal te meie saidile sisenesite ja me ei saa selle toimivust.
Need küpsised võimaldavad veebisaidil pakkuda täiustatud kasutajafunktsioone, mis muudab teie sirvimiskogemuse isikupärasemaks. Neid saab paigaldada kas meie ise või kolmandad osapooled, kelle teenused oleme oma lehtedele lisanud. Kui te ei luba nende küpsiste kasutamist, ei pruugi mõned või kõik teenused õigesti või üldse töötad
Reklaam ja sotsiaalmeedia
Neid küpsiseid võivad meie veebisaidi kaudu kasutada meie reklaamipartnerid. Neid saab kasutada teie huvide profiilimiseks ja teie reklaamihuvide kuvamiseks teistel saitidel. Need küpsised ei salvesta otseselt isikut tuvastavat teavet, vaid pigem tuvastavad teie veebibrauseri ja seadme. Kui te ei luba nende küpsiste kasutamist, saate vähem isikupärastatud reklaame.