PL
Poland
USD
Your shopping cart is empty!
0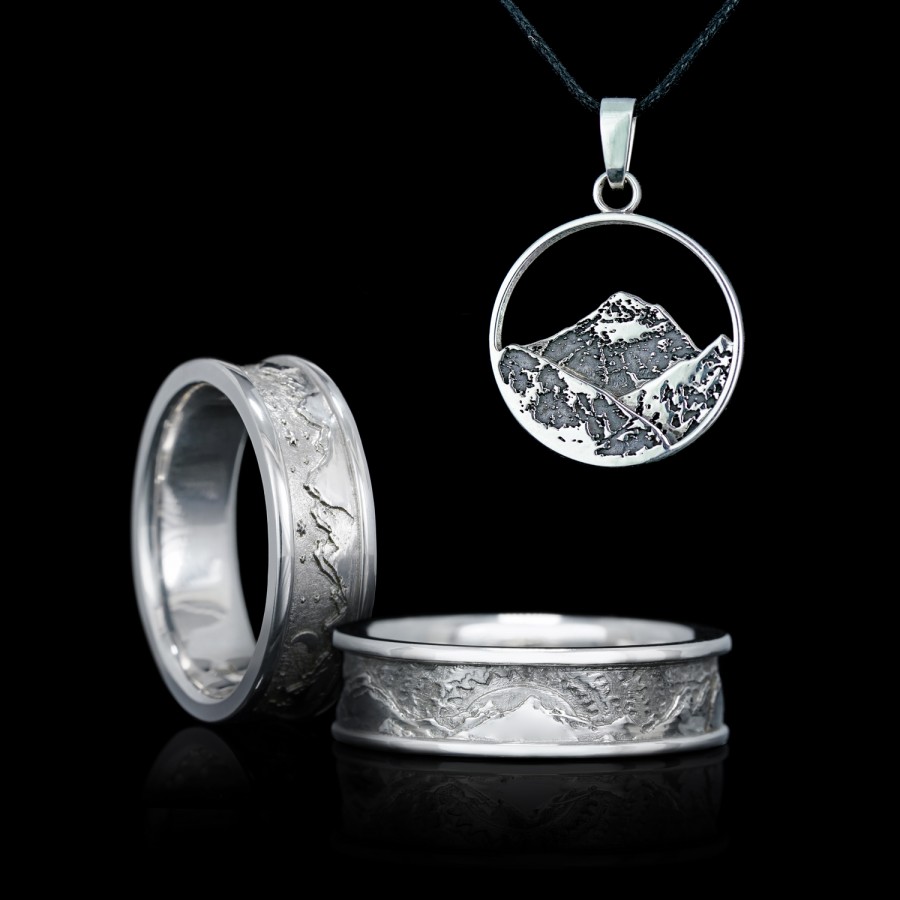 Potęga wysokości
Kiedy góry i miłość, te rzeczy, które popychają duszę i ciało do osiągnięcia najwyższych szczytów, były przedmiotem naszych pragnień. Wyryliśmy te uczucia w srebrze i złocie. W kolekcji znajdują się wisiorki, Obrączki ślubne, pierścionki i kolczyki z motywami górskimi.

Dusza i ciało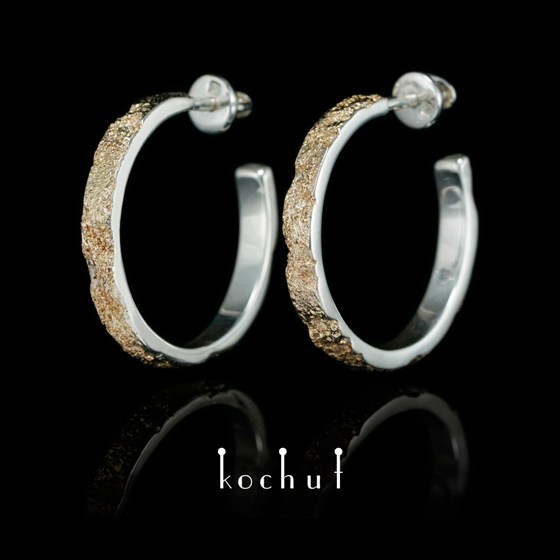 Drzewo Życia
The cycle of endless renewal. A tree that feeds, shelters and fills all beings with peace. Carefree contemplation of the ephemerality of life. We accept the joys of life, forgiving them of their fragility. We grow by forgiving ourselves of change. There is nothing closer to humankind than this tree atop its hill, which is why we so dearly wanted to depict it wherever we could: on wedding rings, to remember our common values; on pendants, that it could serve as an amulet; or even on earrings, because it is, after all, so very beautiful.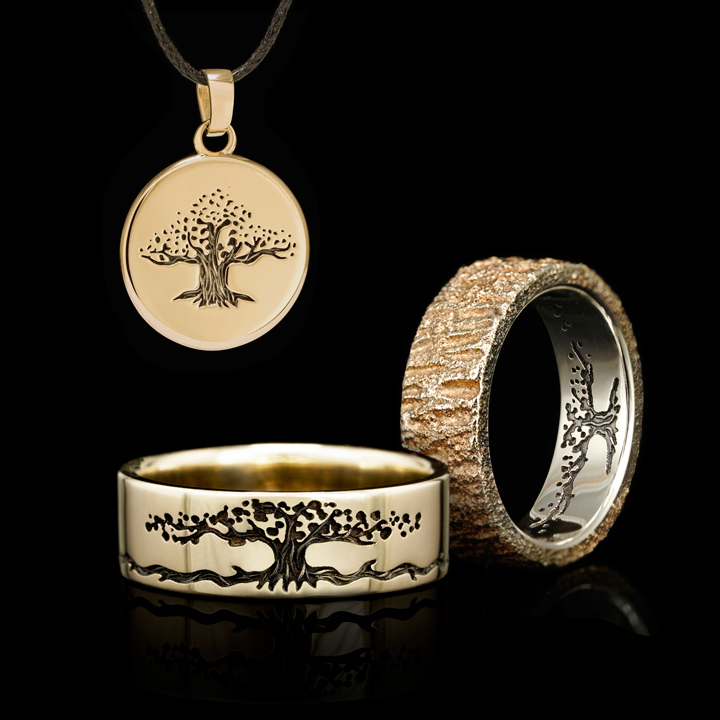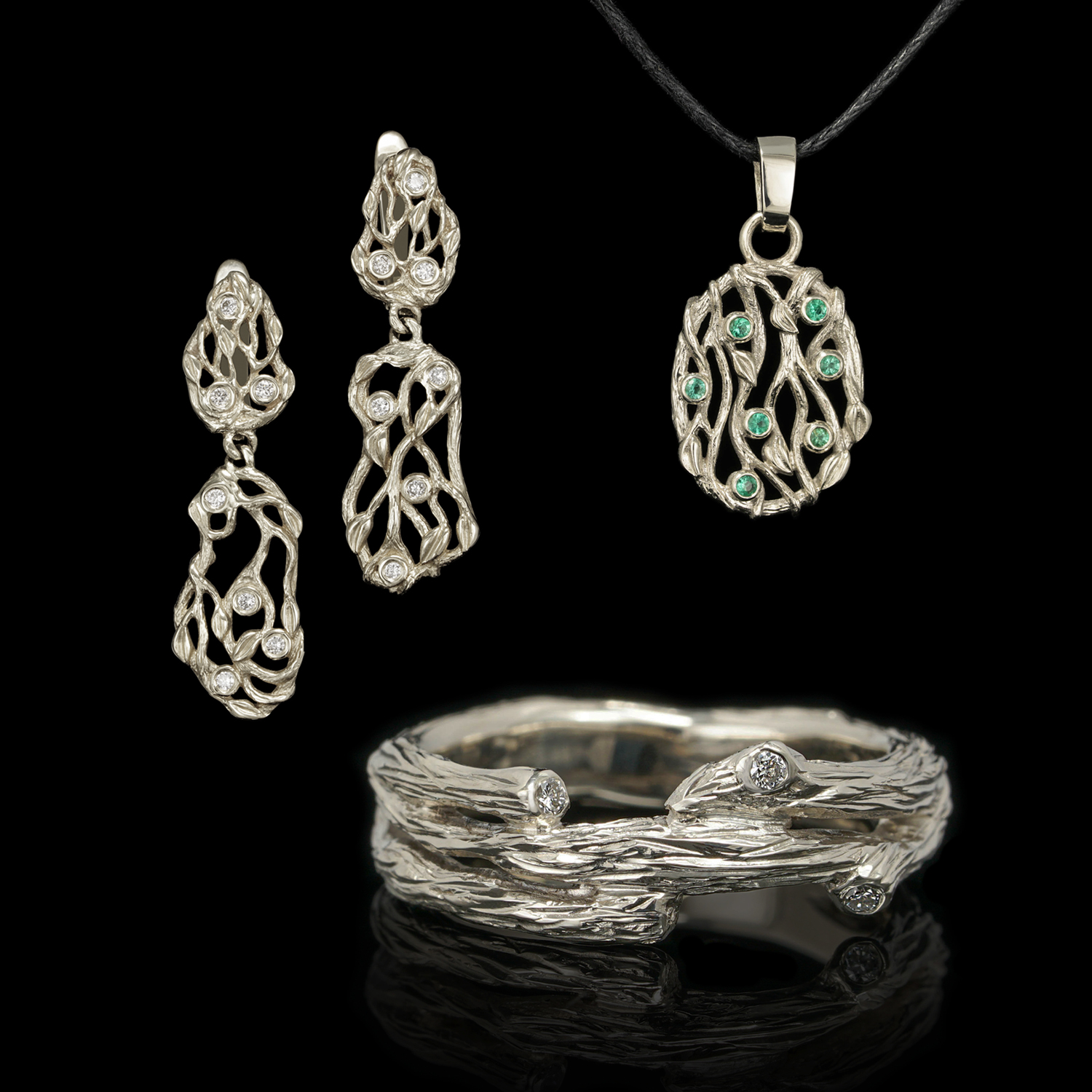 Elementy Leśne
Luksus pod każdym kątem. Pozuje przed nami w przebraniu delikatnej gałęzi, dojrzałych owoców i wspaniale zabarwionych liści. Pierścionki, kolczyki, wisiorki i pierścionki zaręczynowe z tej kolekcji podkreślają żywy i niezbędny charakter użytkownika. "Słoneczny Las", "Radość Życia", "Leśna Wróżka" i inne elementy z tej kolekcji to zaproszenie do naśladowania samej natury.

Klasyczna Inspiracja
Pierścienie, które niewątpliwie pozostaną obiektami pożądania. Pierścionki, które nie przynoszą noszącemu wyznania uczuć miłości, ale raczej pierścionki, które sprawiają, że noszący po prostu chce kochać! Pozostaje tylko wybrać idealne obrączki z tej kolekcji do sparowania z nimi. Klasyczne wyrafinowanie z wieloma diamentami i kształtami, które urzekały nas od wieków. "Bez cienia wątpliwości" - żaden zwrot frazy lepiej oddaje istotę tej kolekcji.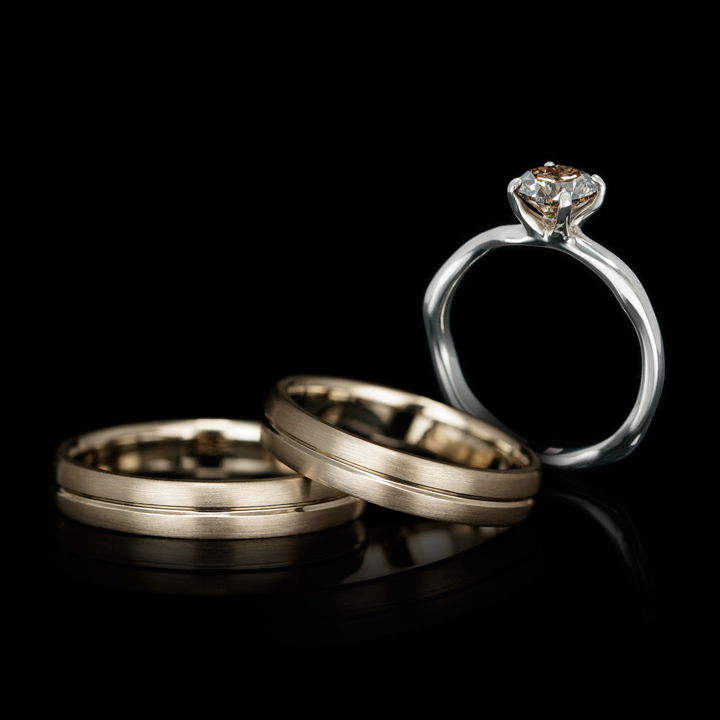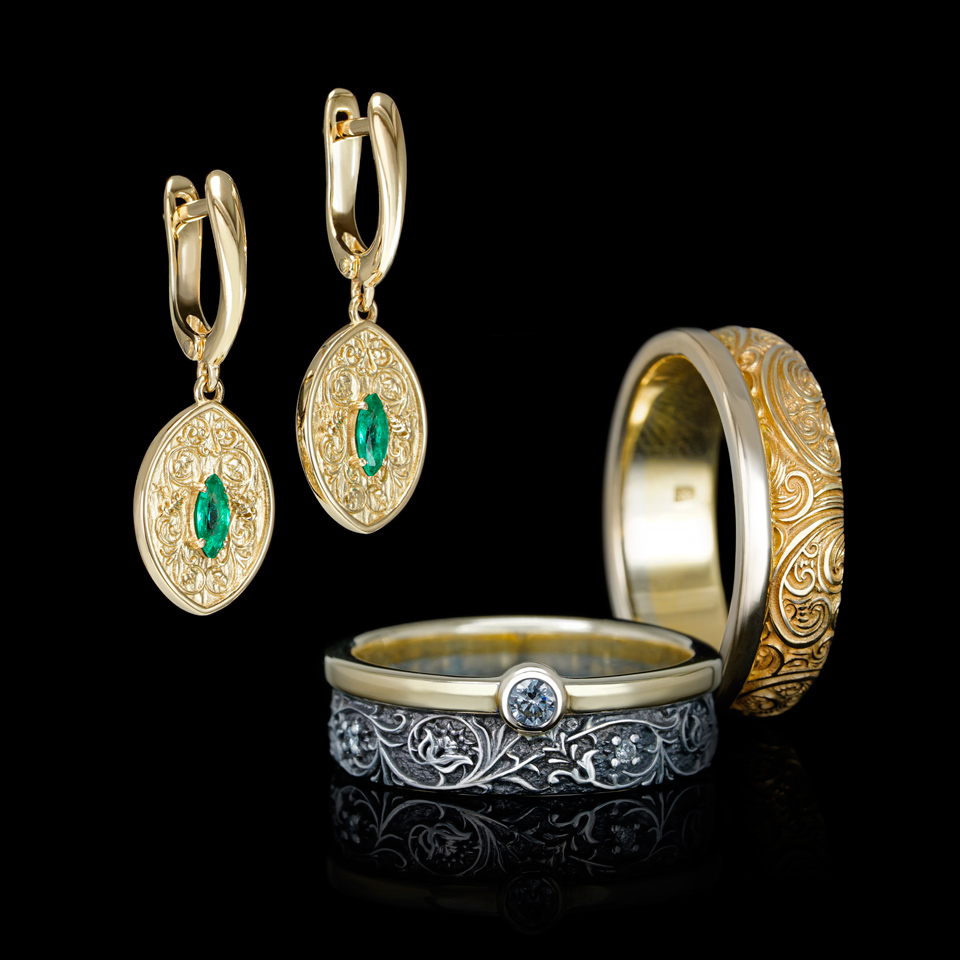 Harmonia uczuć
Ta kolekcja zawiera różnorodne pierścionki zaręczynowe, pierścionki i kolczyki z delikatnymi wzorami, które zahipnotyzują wszystkich, którzy je oglądają. Delikatna przewiewność każdego wyciągu i przepływu wykutego w metalu rodzi się z natury i żyje w naszych uczuciach. Wierzymy w harmonię.

Parada planet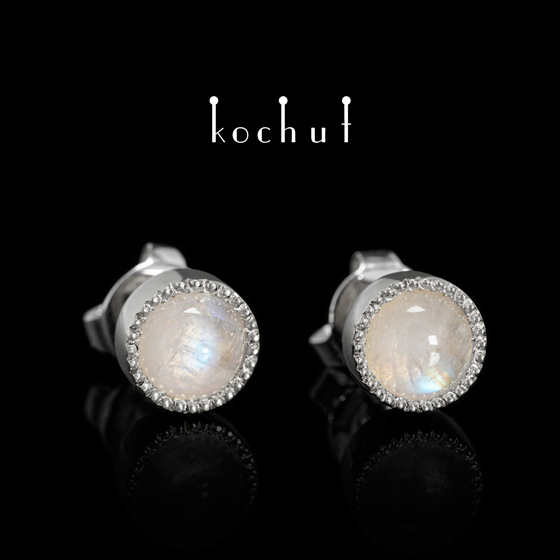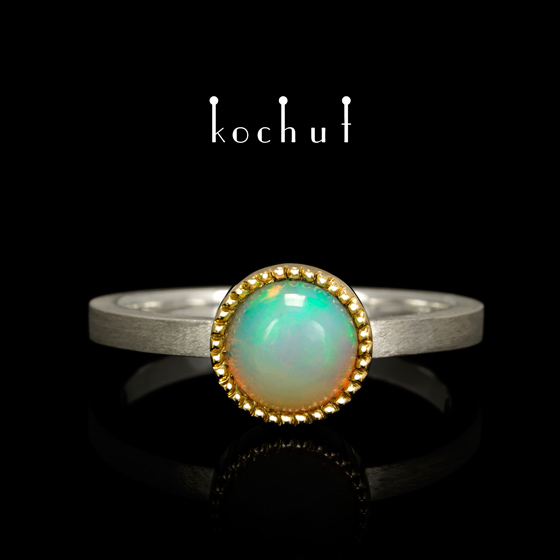 Ptak
It was the spring of 2017. One of the brothers, Roman Kochut, went for a walk with his son. The boy was still young, just a year old, and the spring sun brought him great joy. A bird suddenly flew to a nearby tree, perched on a branch and began to sing. The boy smiled as if he were witnessing a true miracle. Roman Kochut remembers this moment very vividly. When he returned to his workshop that evening, he made a model and embodied the singing bird on the tree in silver and gold.
The first «Bird» ring began from this story. The collection now includes rings, earrings, pendants and brooches. Feel the spring at your fingertips!
Wstążka Mobius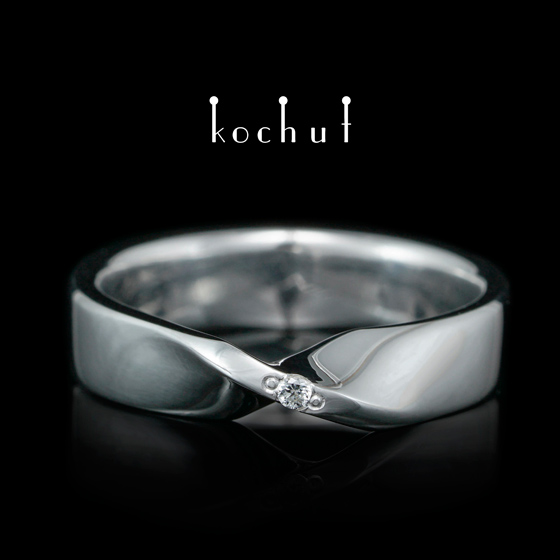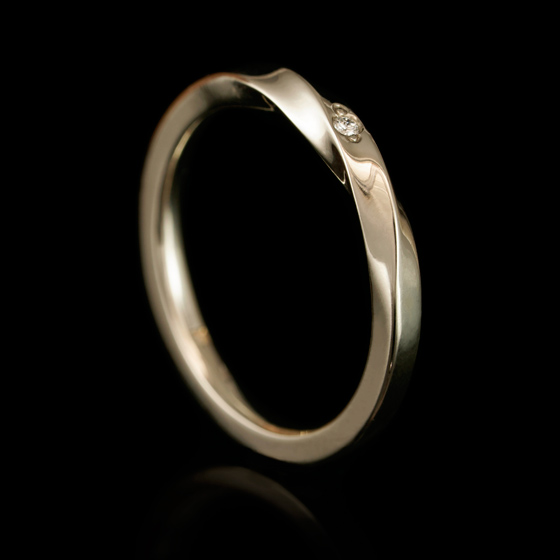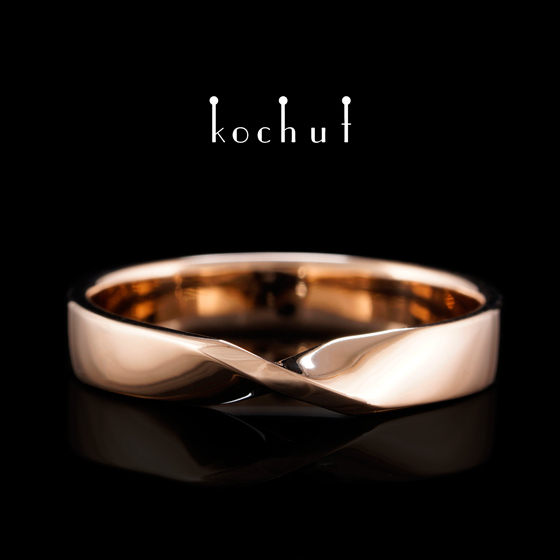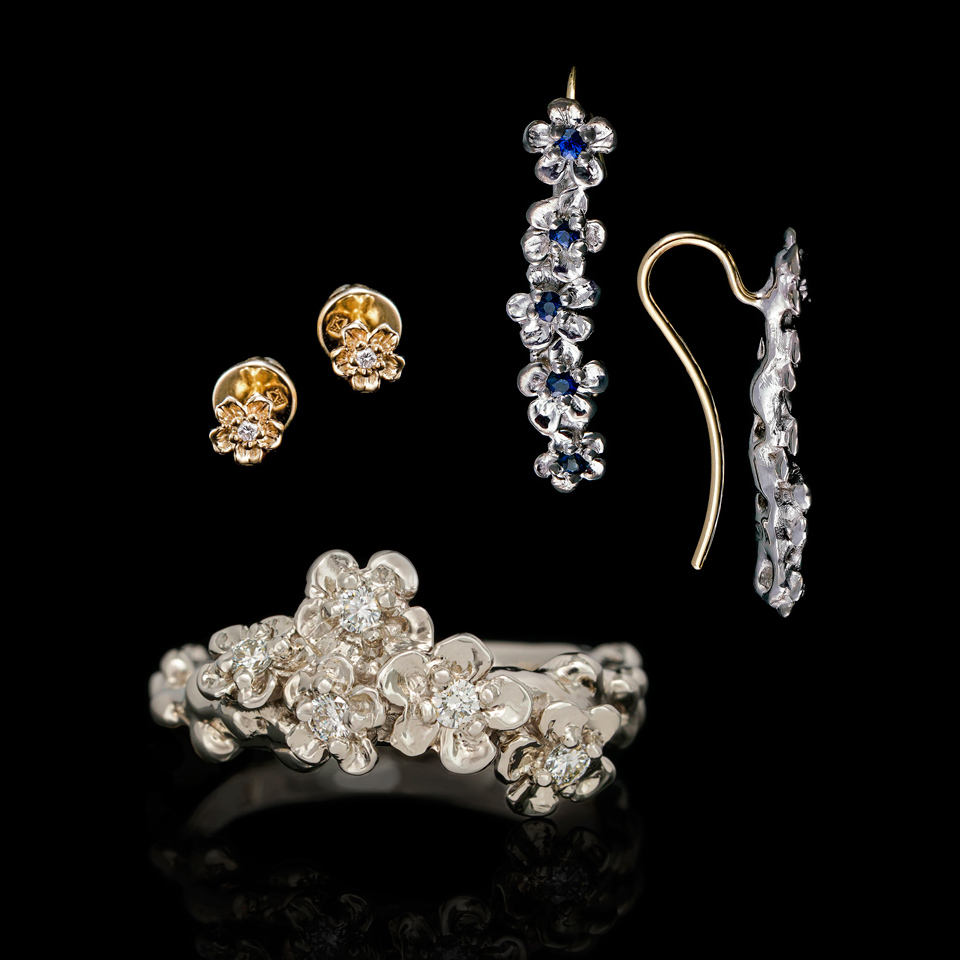 Floral Symphony
If a flower is a compliment to a woman from God, then this collection is an all-encompassing tribute from our jewellers. We took special care to create novel, unexpected, and even perhaps slightly provocative pieces in order to emphasize the uniqueness of each and every flower, as well as each and every one of you. We have left ample room for imagination, and encourage you to mix and match earrings, pendants, rings, and engagement rings from this collection to produce a result that will blossom forth magnificently!

Interested in more jewelry? Browse the catalog
Privacy Preference Centre
When you visit any website, it may store or receive information from your browser, primarily in the form of cookies. This information may relate to you, your preferences, your device, or be used to make the site work as expected. The information is not typically used to identify you, but it can give you a more personalized web surfing experience. You may choose to disallow or prevent some types of cookies from working. Click on the different category headings to learn more and change the default settings. However, you should be aware that blocking some types of cookies may affect your experience on the site as well as the services we can offer. More Information.
Required Cookies
Always Active
These cookies are essential for the website to function and cannot be turned off. They are usually only triggered in response to actions taken by the user such as requesting certain services, setting privacy preferences, logging in or filling out forms. You can set your web browser to block or warn you about these cookies, but the site will then lose some of its functionality. These cookies do not store personally identifiable information.
Performance and Analytics
These cookies allow us to count the number of visits to our site as well as traffic sources so that we can measure and improve its performance. They help us find out which pages what visitors are viewing with frequency and which are among the least popular. All of the information that these cookies collect is integrated and therefore anonymous. If you do not allow the use of these cookies, we will not know when you entered our site and will not be able to improve its performance.
These cookies allow the website to provide enhanced user functionality, which makes your browsing experience more personalized. They can be installed either by us or by third parties whose services we have added to our pages. If you do not allow the use of these cookies, some or all of the services may not work correctly or at all.
Advertising and Social Media
These cookies may be used by our advertising partners through our website. They can be used to profile your interests and display your advertising interests on other sites. These cookies do not directly store personally identifiable information, but rather identify your web browser and device. If you do not allow the use of these cookies, you will receive fewer personalized advertisements.