EE
Baltic
Little fox — pendant made of white gold and with emerald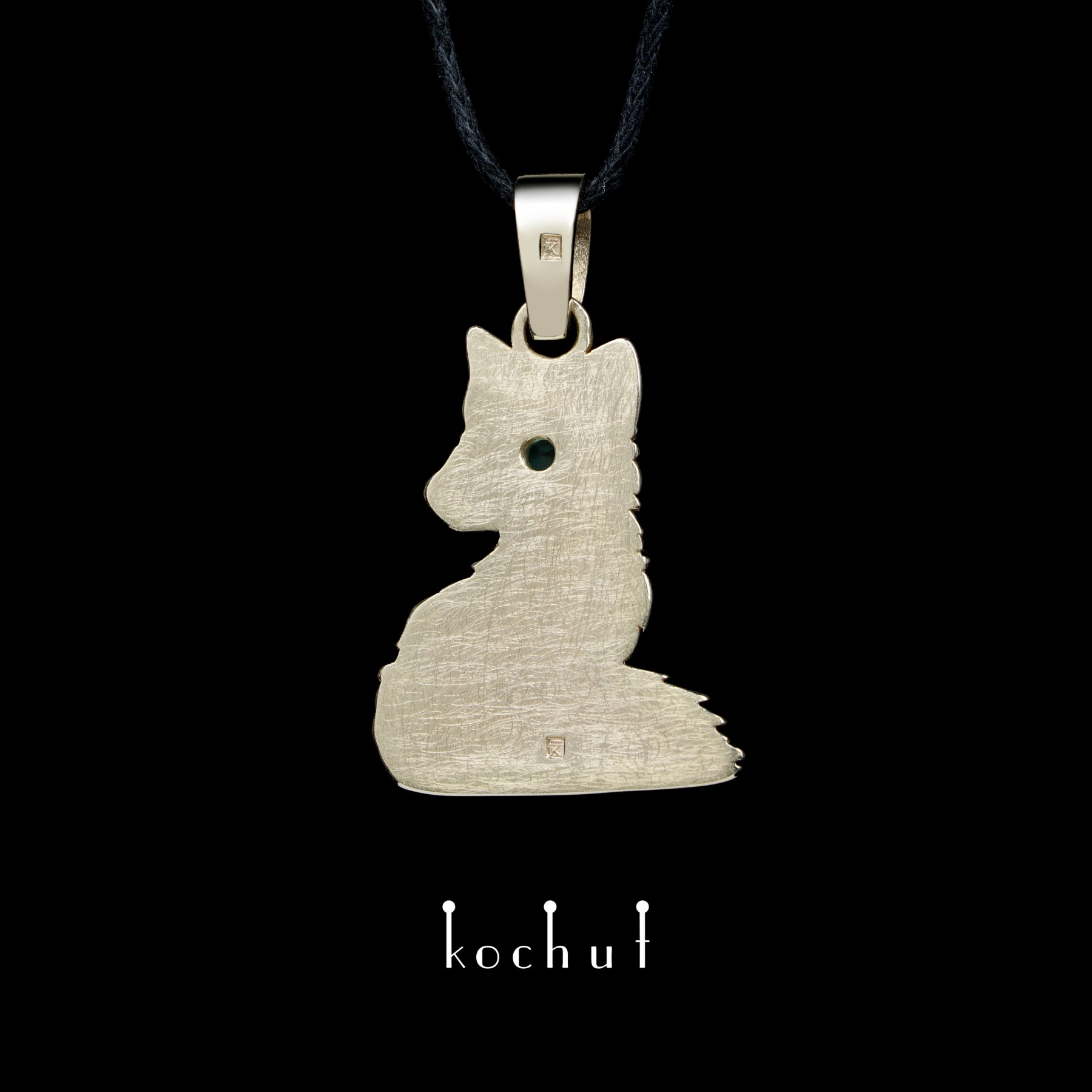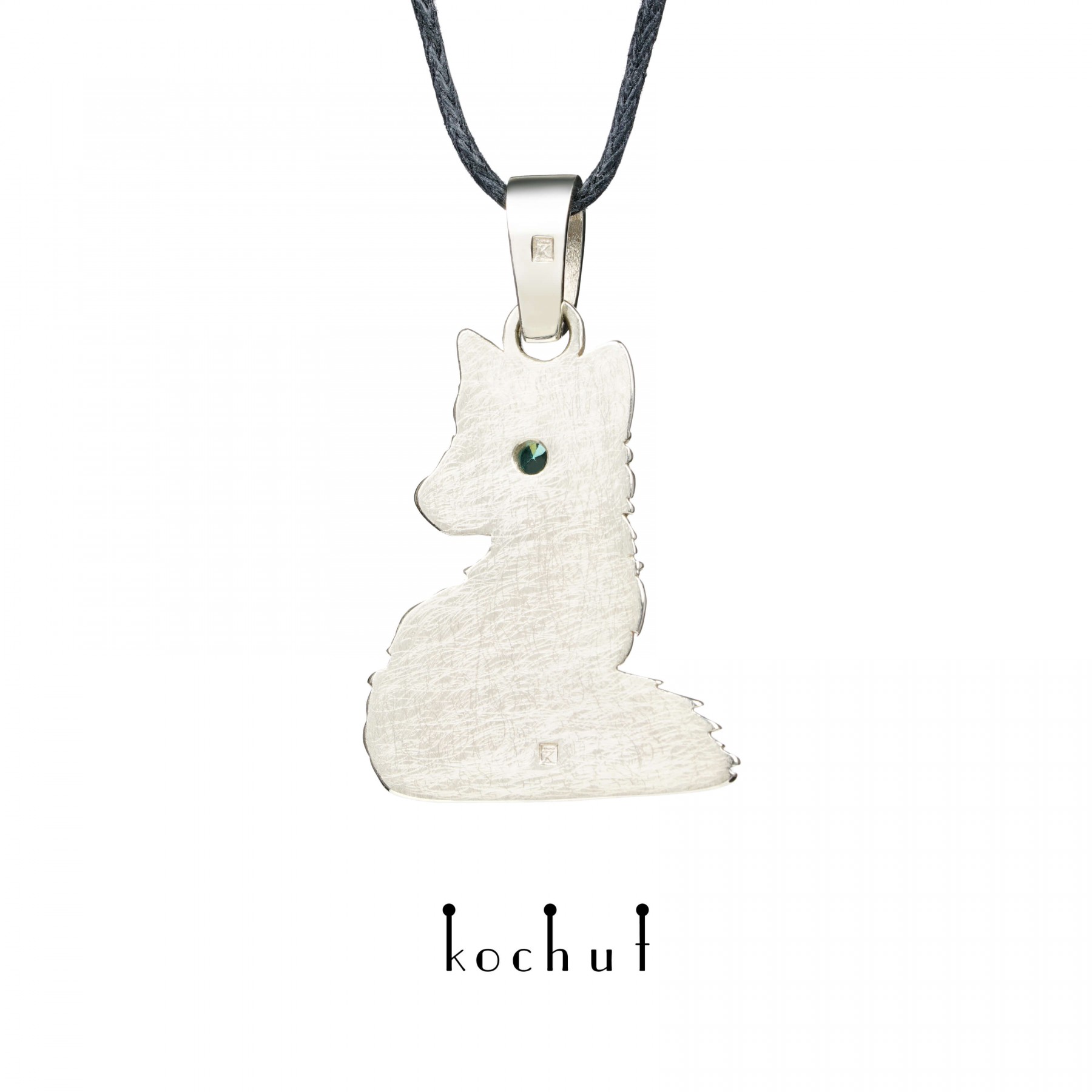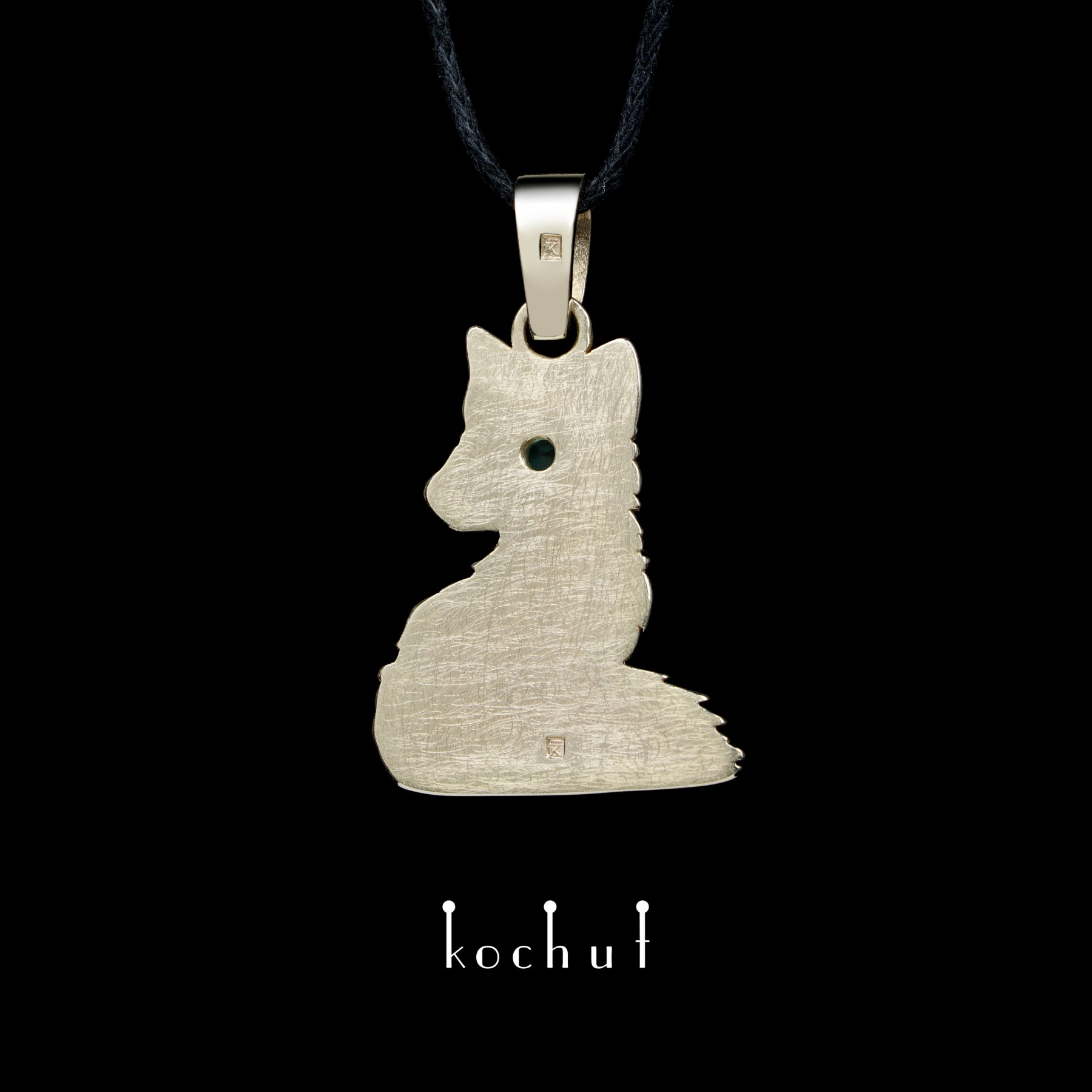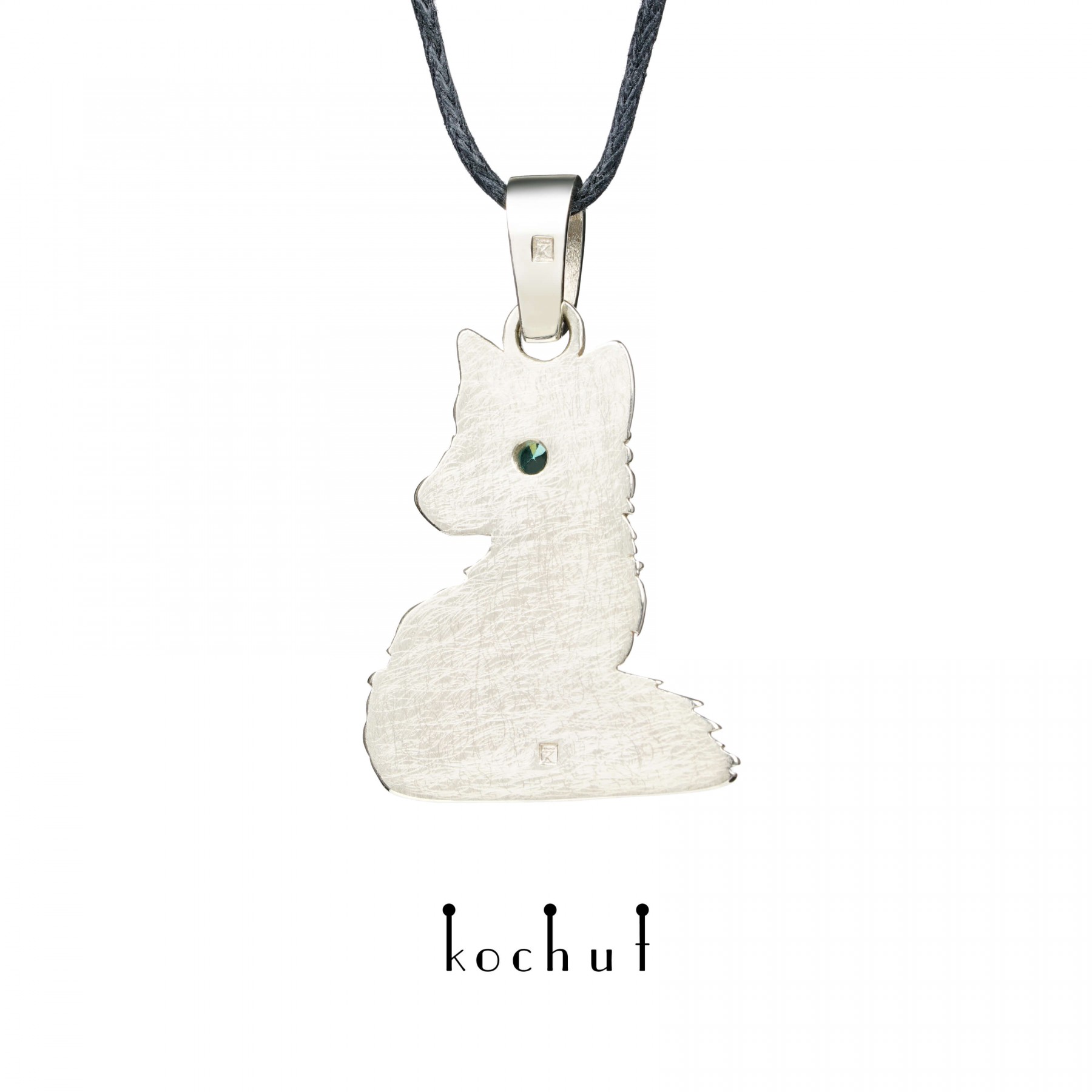 Little fox — pendant made of white gold and with emerald
Out of stock
Characteristics
Insert:
Emerald is 2,5 mm
Sizes:
Height with an eye — 33 mm, without a lug — 25 mm, width — 20 mm, thickness — 3 mm.
Selle mudeli muud variandid:
Kirjeldus
The fox is an exceedingly wilful animal — for centuries humans have failed to tame them. Their bright red coats can be seen from afar, but catching the crafty creature is much more difficult affair. They are cunning, independent, and unbound. The fox roams throughout its forest domain as if it were its personal kingdom, and knows every nook and cranny where one can hide from prying eyes.
Fox kits have stunningly beautiful eyes. They are full of abandon that has been mixed with a love for life itself. You have perhaps heard that a person endowed with light red hair was born under a lucky star. Such people are typically enamoured by creativity and dedicate their lives to the invention of something new. The fox is often considered a symbol of a freedom-loving nature that will never bow to anyone.
It is a confluence of two elements: Earth, as it lives in the woods and partakes of its gifts, and fire, as evidenced by the fiery red color of its coat, which shields it from the elements.
People who adopt this symbol for themselves are often endowed with a sharp mind, acumen, ambition and independence. However, it is not the symbol that makes a person unique, but the person themself that infuses abstract images with their own features. Take care not to forget this.
Our delicate «Little Fox» pendant is an enchanting woodland depiction. The skilled hand of the master nearly brought the fox to life — one moment more and it would have dashed back to its forested home with a flash of its tail.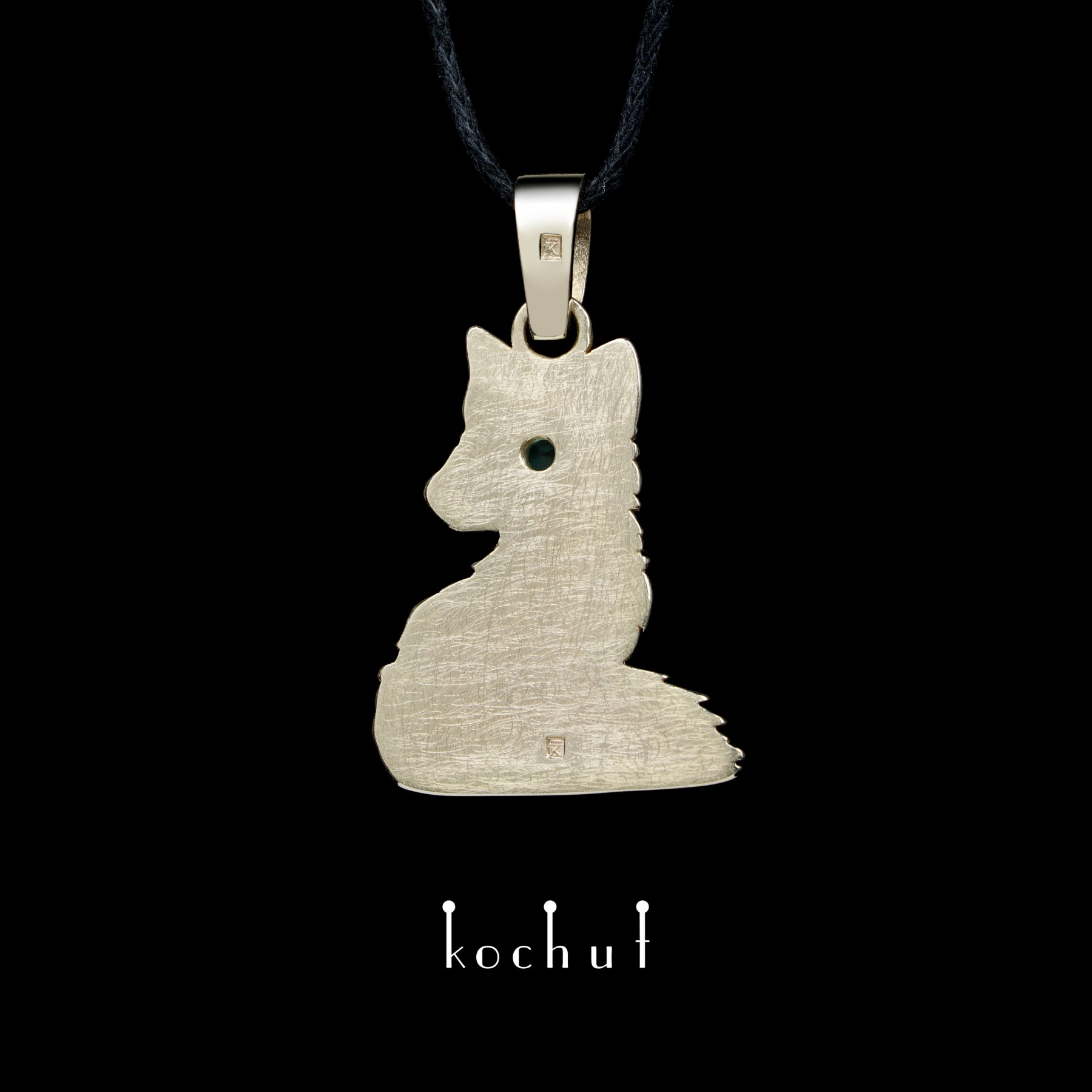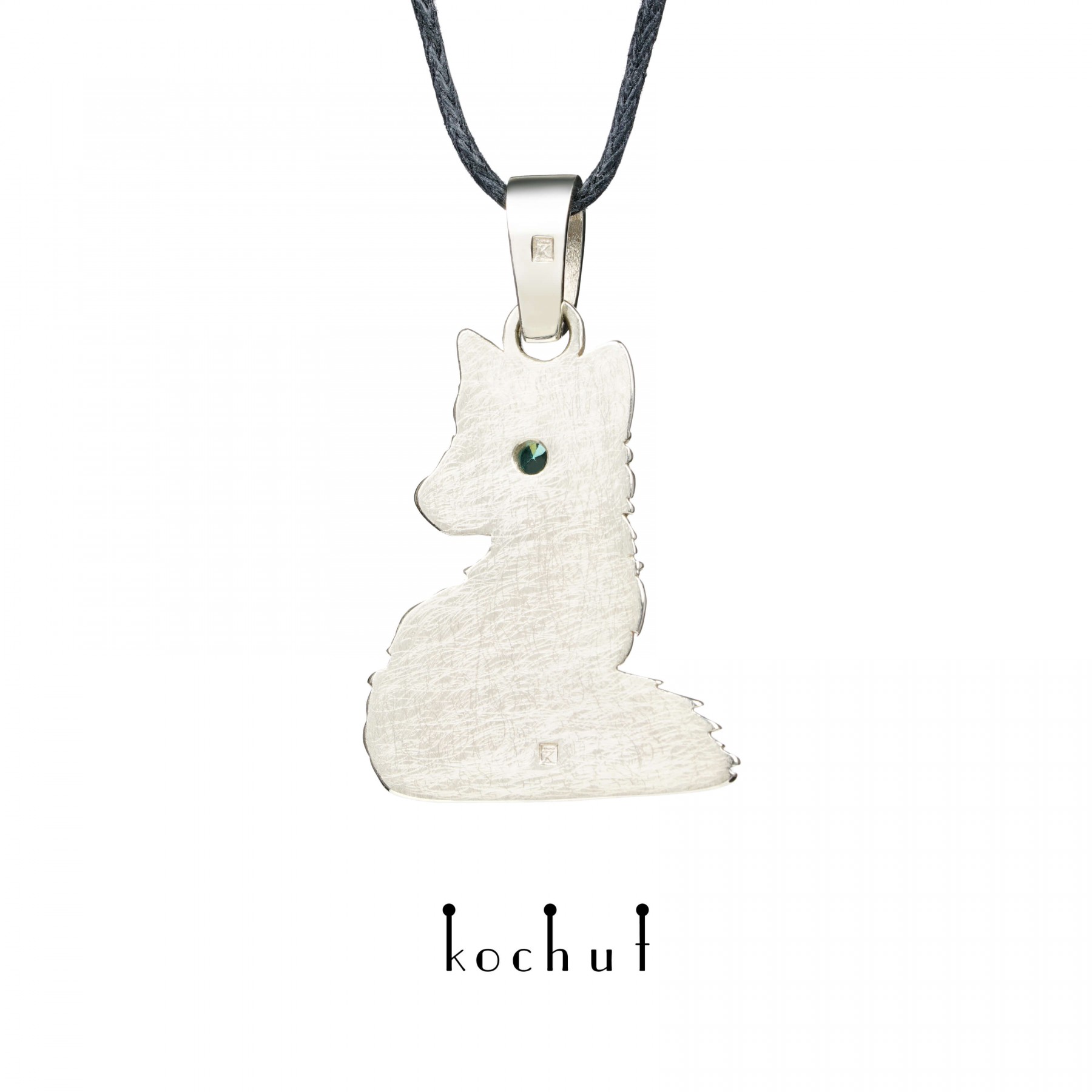 Privaatsuseelistuste keskus
Kui külastate mõnda veebisaiti, võib see salvestada või saada teavet teie brauserist, peamiselt küpsiste kujul. See teave võib puudutada teid, teie eelistusi, teie seadet või seda võib kasutada saidi ootuspäraseks toimimiseks. Seda teavet ei kasutata tavaliselt teie tuvastamiseks, kuid see võib pakkuda teile isikupärastatumat veebis surfamise kogemust. Võite teatud tüüpi küpsiseid keelata või takistada nende toimimist. Lisateabe saamiseks ja vaikesätete muutmiseks klõpsake erinevate kategooriate pealkirjadel. Siiski peaksite teadma, et teatud tüüpi küpsiste blokeerimine võib mõjutada teie kogemust saidil ja teenuseid, mida saame pakkuda. Rohkem informatsiooni.
Nõutavad küpsised
Alati Aktiivne
Need küpsised on veebisaidi funktsioneerimiseks hädavajalikud ja neid ei saa välja lülitada. Tavaliselt käivituvad need ainult vastusena kasutaja toimingutele, nagu teatud teenuste taotlemine, privaatsuseelistuste seadmine, sisselogimine või vormide täitmine. Saate seadistada oma veebibrauseri neid küpsiseid blokeerima või nende eest hoiatama, kuid sait kaotab sel juhul osa oma funktsioonidest. Need küpsised ei salvesta isikut tuvastavat teavet.
Need küpsised võimaldavad meil lugeda nii meie saidi külastuste arvu kui ka liikluse allikaid, et saaksime selle toimivust mõõta ja parandada. Need aitavad meil teada saada, milliseid lehti külastajad sageli vaatavad ja millised on kõige vähem populaarsed. Kogu teave, mida need küpsised koguvad, on integreeritud ja seega anonüümne. Kui te ei luba neid küpsiseid kasutada, ei saa me teada, millal te meie saidile sisenesite ja me ei saa selle toimivust.
Need küpsised võimaldavad veebisaidil pakkuda täiustatud kasutajafunktsioone, mis muudab teie sirvimiskogemuse isikupärasemaks. Neid saab paigaldada kas meie ise või kolmandad osapooled, kelle teenused oleme oma lehtedele lisanud. Kui te ei luba nende küpsiste kasutamist, ei pruugi mõned või kõik teenused õigesti või üldse töötad
Reklaam ja sotsiaalmeedia
Neid küpsiseid võivad meie veebisaidi kaudu kasutada meie reklaamipartnerid. Neid saab kasutada teie huvide profiilimiseks ja teie reklaamihuvide kuvamiseks teistel saitidel. Need küpsised ei salvesta otseselt isikut tuvastavat teavet, vaid pigem tuvastavad teie veebibrauseri ja seadme. Kui te ei luba nende küpsiste kasutamist, saate vähem isikupärastatud reklaame.