US
United States
Your shopping cart is empty!
0
How to choose an engagement ring
13.03.2020
&nbsp 9723
Choosing an engagement ring is often not easy, especially for those who want to find an exceptional piece of jewelry that will truly impress their partner. If you are among those who approach ring selection with great care, we can help you make the right choice.

PROPOSAL CHECK-LIST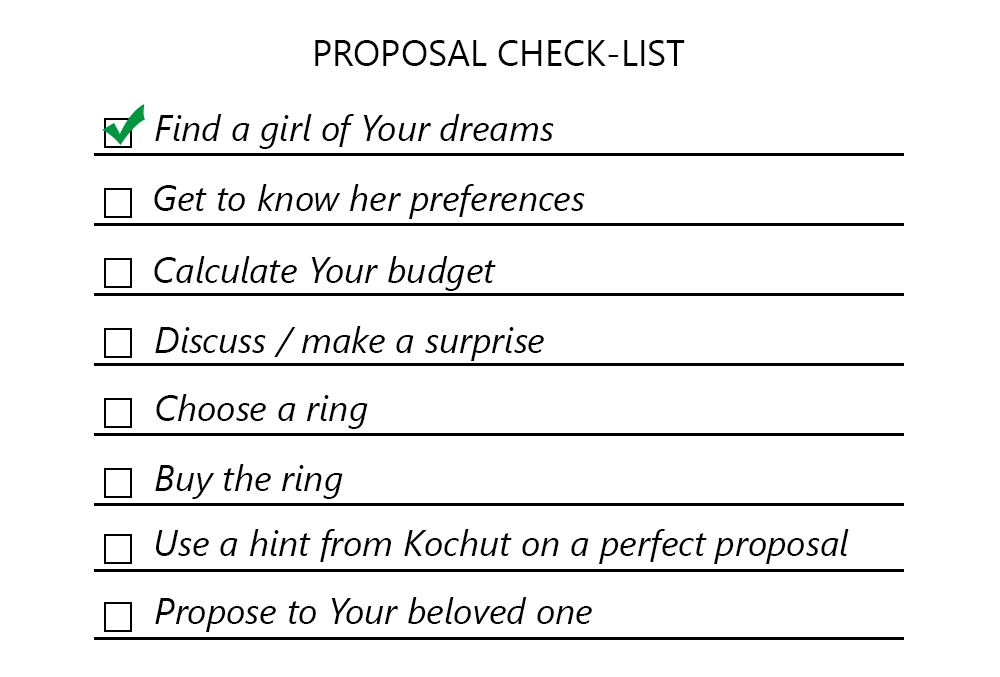 Tip № 1. Choose the Style of the Engagement Ring
Don't just follow the latest trends or make a decision based on personal preference. Instead, think about your partner's taste. If you're not 100% sure about your girlfriend's taste, it's better to discuss the future ring with her. Try to figure out which style she prefers — classic and simple or something unique with natural motifs (like a leaf engagement ring)? If you're not 100% sure about your girlfriend's taste, it's better to discuss the future ring with her. Try to figure out which style she prefers — classic and neat or something unique with natural motifs (for example, leaf engagement ring)? Does she prefer a ring with a central stone or a ring with multiple stones?
Some people might argue that discussing the ring takes away from the romance of the proposal. However, this isn't necessarily true. First, your beloved one won't know what the ring looks like or when the proposal will happen. Secondly, if you've been in a long-term relationship, it's likely that you've already talked about marriage, so it won't come as a surprise to anyone.
That said, it's not a good idea to simply tell your girlfriend to choose any ring she likes. You should know her preferences when it comes to style, gems, and metals. Here are some examples for ideas to start the conversation:
"I know that we have already talked about marriage somehow, but there is another thing that worries me. I want to talk about the ring. It's important for me to know how do you see it, because I want you to like it"
I know that the engagement ring is important to you, and I want to make sure it's perfect. Can we talk about what kind of style or shape you like, and if there's a specific gemstone that you're drawn to?
Why would such a message work?
It lets her know that you want to involve her in the decision-making process and that her opinion is important to you.
By approaching the situation frankly and sincerely, you show that you value her input and want to make the decision together.
Disney motif also has a place
We conducted a social survey on our Instagram account with the question, "Would you like to give your future fiancé a hint about what kind of engagement ring you want or should it be a surprise?" The poll results showed that 56% of respondents preferred to give a hint or clue, while 44% preferred their partner to pick the ring themselves for a surprise proposal.
Ultimately, it's up to you to decide which approach to take. You need to consider what your loved one would like the most and make a decision based on that.
Tip № 2. Size matters: measure it correctly
Make sure you know the right size of her finger before buying the ring. Trust us, you don't want a situation where the ring comes off her finger with just one gesture or doesn't fit at all. It can be frustrating and spoil the proposal experience for both of you.
To avoid any sizing mistakes, we recommend taking the time to determine her ring size accurately. There are several ways to do this, including measuring her existing ring, using a printable ring sizer, or visiting a jeweler to get a professional measurement.
We also suggest checking out our article on "How to Determine the Size of your Finger" for more detailed instructions and tips. By getting the right size, you'll ensure that the ring fits perfectly and shows your commitment and attention to detail.
How to get the right ring size without ruining the surprise?
Finding the perfect ring size for your partner can be a daunting task, especially if you want to keep the proposal a surprise. But fear not, we have some tips to help you play detective and get it right the first time.
1. Talking to family members (High risk, low accuracy). While this is a common recommendation, we advise being careful with it. There's always a chance that your question won't be kept secret and could ruin the surprise. Only consider this option if you're absolutely sure you can trust the family member.
2. Use a ring she already owns as a guide (Low risk and high accuracy). In our opinion, this is the best option, especially if she has a ring that the doesn't wear anymore or uses it not that often. Take that jewelry piece and bring it to the jeweler to measure its size.
Tip № 3. Don't Shop Only in Mass Market Shops
Choosing to buy an engagement ring that is not from a mass market or chain store can be a great decision for several reasons. Firstly, handcrafted engagement rings are unique and one-of-a-kind. This personal touch can make your proposal and your future life together even more special. Additionally, handcrafted rings are often made by skilled artisans who put a lot of love and care into their work. This attention to detail can result in a ring that is not only beautiful but also of higher quality than a mass-produced alternative. You can also choose from a wider range of precious stones and metals, and work with the jeweler to create a design that perfectly reflects your partner's taste and personality.
Tip № 4. Consider your budget
When it comes to choosing an engagement ring, the most common question that comes to mind is, "How much should an engagement ring cost?" A widely circulated myth suggests that an engagement ring should cost two months' salary. However, this idea was created by marketers who aimed to boost sales, and it is not based on any concrete evidence.
Instead of following this myth, it is crucial to consider your own financial situation. It is not necessary to put yourself in a difficult financial position by purchasing an expensive engagement ring. Take the time to evaluate your budget and determine what you can realistically afford. It is essential to remember that the value of an engagement ring is not measured by its cost, but by the love and commitment it represents.
When considering your budget, you should also think about the various features of the ring. For instance, the size, cut, and clarity of the diamond will significantly impact the price of the ring. Therefore, it is important to prioritize what is most your partner.
Tip №5. Think About the Ring box
So, you've determined your budget, figured out her tastes, preferences, and the size of the ring, and bought one. The most exciting moment follows – the proposal. At this point, your creativity comes into play. But regardless of the scenario you choose, from the basic to the most romantic and demanding, there is one more important thing – the ring box.
The right box can make your marriage proposal even more magical and charming. That's why we designed a unique jewelry box with a swivel mechanism, so you can conveniently and neatly carry it in the pocket of your jacket or pants. Unlike a classic square ring box, which can easily expose your momentous plan and cause discomfort in your pocket due to compression, our box is discreet and practical.
But that's not all — the opening mechanism of the box is designed to showcase the astonishing beauty of the gem. Against this background, the ring will shine brighter and cause total admiration. It's a small but essential detail that can make a big difference in the proposal experience.

So, what is the most important thing when choosing an engagement ring?
Her tastes and preferences. This is the most crucial factor you need to consider to give her an exceptional ring as a gift. Are you sure she will love it? Then go ahead with the purchase and make it a surprise. But if you're not confident, consider doing it together. After all, you care about what you're diving into, don't you?
You should not act inconsiderately. The engagement ring is not just another present; it's a special piece of jewelry that symbolizes your love and commitment. That's why choosing Kochut jewelry can help make everything possible for her to remember this day for the rest of her life.
Our engagement rings and jewelry boxes are designed to make your proposal perfect. We offer a wide range of options to suit any style and preference, from classic and elegant to unique and bold. And if a product is unavailable, we will make it on order especially for you. We also provide advice on picking the best gemstones for your future jewelry, ensuring that you make an informed decision and get the most value for your money.
Leave a comment via Facebook:
WhatsApp
Privacy Preference Centre
When you visit any website, it may store or receive information from your browser, primarily in the form of cookies. This information may relate to you, your preferences, your device, or be used to make the site work as expected. The information is not typically used to identify you, but it can give you a more personalized web surfing experience. You may choose to disallow or prevent some types of cookies from working. Click on the different category headings to learn more and change the default settings. However, you should be aware that blocking some types of cookies may affect your experience on the site as well as the services we can offer. More Information.
Required Cookies
Always Active
These cookies are essential for the website to function and cannot be turned off. They are usually only triggered in response to actions taken by the user such as requesting certain services, setting privacy preferences, logging in or filling out forms. You can set your web browser to block or warn you about these cookies, but the site will then lose some of its functionality. These cookies do not store personally identifiable information.
Performance and Analytics
These cookies allow us to count the number of visits to our site as well as traffic sources so that we can measure and improve its performance. They help us find out which pages what visitors are viewing with frequency and which are among the least popular. All of the information that these cookies collect is integrated and therefore anonymous. If you do not allow the use of these cookies, we will not know when you entered our site and will not be able to improve its performance.
These cookies allow the website to provide enhanced user functionality, which makes your browsing experience more personalized. They can be installed either by us or by third parties whose services we have added to our pages. If you do not allow the use of these cookies, some or all of the services may not work correctly or at all.
Advertising and Social Media
These cookies may be used by our advertising partners through our website. They can be used to profile your interests and display your advertising interests on other sites. These cookies do not directly store personally identifiable information, but rather identify your web browser and device. If you do not allow the use of these cookies, you will receive fewer personalized advertisements.